NEWS
Kristen Stewart to Robert Pattinson at 'Breaking Dawn' Convention: 'You Better Watch It!'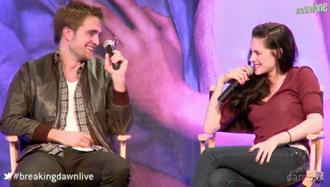 Robert Pattinson and Kristen Stewart were being especially flirty during The Twilight Saga: Breaking Dawn - Part 1 convention in L.A. on Saturday. Rob sweetly revealed his favorite Twilight scene before he made a joke that didn't go over so well with Kristen!
OK! NEWS: ROBERT PATTINSON SAYS KRISTEN STEWART WAS OVER-THE-TOP DURING BREAKING DAWN SEX SCENE
"The one scene I will take away with me is the dance at the end of the first one in the gazebo," Rob said at the convention (via Hollywood Life). "That was a really great moment. There were all these little frogs croaking around. It was really sweet. That moment started this whole thing."
Article continues below advertisement
How cute!
Rob and Kristen also took turns sharing what their audition process was like for Twilight. Kristen was locked into the role first, after a long audition with director Catherine Hardwicke.
"The next step was finding this guy," Kristen said, motioning to Rob. "And take it from there."
OK! NEWS: ROBERT PATTINSON GETS KRISTEN STEWART'S BIRTHDAY WRONG IN TWILIGHT CO-STAR QUIZ
"I went to do a meeting at Catherine's house in Venice... . I read with Kristen for four hours, as well, or, like, three hours, or something," Rob said. He then tried to recall what scenes he read, including a garden scene, saying, with a laugh, "I don't know what it was about. Lots of...prancing."
"What?" Kristen asked. "Listen, man, you better watch it!"
"What?" Rob responded, innocently.
"This is near and dear," Kristen said pointing to her heart. "We did no 'prancing.'"
"What's wrong with prancing?" he asked.
But the two ended on a good note, with Kristen saying she helped Rob get the role by convincing Catherine "that it was definitely the right idea."
Watch the adorable interview over at Hollywood Life.