NEWS
Robert Pattinson Gets Kristen Stewart's Birthday Wrong in 'Twilight' Co-star Quiz!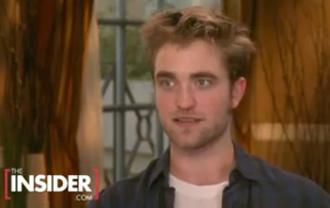 Article continues below advertisement
When asked who Kristen's favorite chef is, he answered all flustered.
"I don't know any of their names," Rob told The Insider, via Celebuzz.
The answer is Paula Deen, which struck a chord with Rob!
"I mean, I did know that — with the butter," he said laughing.
Then the host decided to go for an easy question, asking when Kristen's birthday is.
"Oh, my God! Oh, no!" he said as he busted out laughing.
"This is not good for you, Robert," The Insider host quipped back.
"This is terrible. Is it in April, the 8th?" Rob questioned.
OK! NEWS: KRISTEN STEWART PUNCHED CHRIS HEMSWORTH IN THE FACE — "IT MADE SUCH A SOUND!"
So close! But one day off. Kristen's birthday is April 9.
"Oh, geez, I'm so bad with that," he said "I don't know any of my family's birthdays, either. I don't even know when my birthday is."
Kristen had no problem remembering Rob's birthday.
"Well, come on, I know his birthday. It's May 13 — but I actually don't know the year," she quipped.
Article continues below advertisement
Kristen also revealed that filming Breaking Dawn made her feel more maternal.
"One of the main things I loved about the story is that feral-cat image. There are things that are important in life, and then there are things you don't touch," she said, adding that she "absolutely can't wait" to have children.
OK! NEWS: BREAKING DAWN SEX SCENE — "KRISTEN STEWART GOT VERY INTO IT!"
"I so connected with that," she said. "So, yeah. It was an eye-opening experience, to be honest."
Watch the interview HERE!