NEWS
Kristen Stewart & Robert Pattinson Bring 'Twilight Saga: Breaking Dawn - Part 2' to Comic-Con!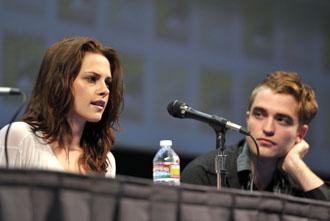 Kristen Stewart, Robert Pattinson and Taylor Lautner are all heading back to Comic-Con this year to promote the final installment of The Twilight Saga — Breaking Dawn - Part 2.
Summit Entertainment announced today via Twitter that the on-screen Bella Swan, Edward Cullen and Jacob Black will be attending the Breaking Dawn press conference at the Hilton Bayfront Hotel in San Diego, Calif., from 11:00 a.m. to 12:15 p.m. on Thursday, July 12.
Article continues below advertisement
OK! GALLERY: NEW BREAKING DAWN - PART 2 STILLS OF KRISTEN STEWART, ROBERT PATTINSON & TAYLOR LAUTNER!
The stars will be joined by many of their castmates, including Ashley Greene, Peter Facinelli, Nikki Reed, Jackson Rathbone, and Kellan Lutz. And, wait for it.... newcomer Mackenzie Foy, who plays Bella and Edward's young half-vampire/half-human child Renesmee, will be along for the ride as well!
Breaking Dawn - Part 2 picks up where Breaking Dawn - Part 1 left off — Bella, who is not only a new mother, but a new vampire, and her husband Edward re-adjusting to life with their baby daughter Renesmee, who grows 10x faster than a normal child.