NEWS
New 'Breaking Dawn — Part 2' Stills of Robert Pattinson, Kristen Stewart and Taylor Lautner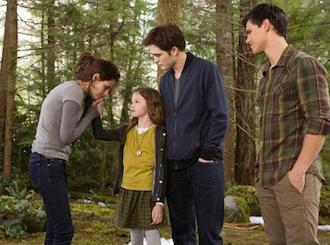 Two days ago, we were treated with the official trailer of Twilight's final installment, Breaking Dawn — Part 2. It's here we learned that Bella Swan (Kristen Stewart) loves her transition to vampire, surmising that being a part of the living dead was really her destiny all along.
OK! NEWS: MUST-SEE! BREAKING DAWN — PART 2 TRALER STARRING ROBERT PATTINSON AND KRISTEN STEWART
Meanwhile, she and Edward Cullen's (Robert Pattinson) lovechild, Reneesme, is half mortal and half vampire, which supremely pissed off the Volturi and sparked their interest in scooping her up and ridding of the hybrid. How will they keep their sweet daughter safe?
Article continues below advertisement