NEWS
Kristen Stewart: "It's Kind of Strange" How Much Mackenzie Foy Looks Like Me & Robert Pattinson!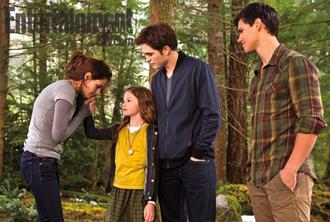 If you're sitting at home right now thinking, 'WOW! The actress who plays Renesmee in The Twilight Saga: Breaking Dawn — Part 2 looks just like Kristen Stewart and Robert Pattinson,' don't worry... you're not the only one!
Mackenzie Foy, 11, who plays Bella and Edward's vampire-human child in the final installment in The Twilight Saga franchise, does strangely resemble Kristen and Rob — even the stars think so!
Article continues below advertisement
"I loved chatting with Mackenzie," Kristen says. "I'm always curious about what's going on in the minds of kids on-set. She's really close to the age I was when I started."
Rob, on the other hand, found that working with an impressionable 11-year-old a bit worrisome!
"We're all around the same age and we're really not polite to each other anymore," Rob explains of the main Twilight cast . "You'd have to tone it down when Mackenzie was around."
"She had a little swear jar, and I think she made 850 bucks or something," he adds.
OK! NEWS: BREAKING DAWN - PART 2 POSTERS REVEALED FEATURING KRISTEN STEWART, ROBERT PATTINSON & TAYLOR LAUTNER!
But despite Rob's sometimes raunchy influence, director Bill Condon said the English actor and Kristen were wonderful with Mackenzie and truly brought her to life oncamera.
"They were amazing with her," Bill says. "It really brought out something paternal in Rob, and Kristen was especially protective. I'd have to interrupt them when they were in deep conversation to get going with a scene."