NEWS
Lady Gaga Splits with Longtime Creative Director Laurieann Gibson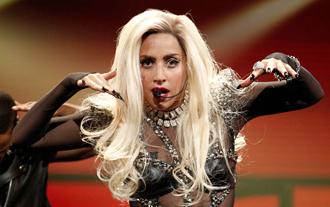 While the name Laurieann Gibson probably doesn't mean a lot to most people, she's been a key factor in shaping the career of someone whose name everyone knows: Lady Gaga.
Laurieann has been Gaga's creative director since her pre-Fame days and choreographed all of Gaga's biggest hits, including "Just Dance," "Poker Face," "Bad Romance," "Alejandro" and "Born this Way" to name a few.
But after years together, the Lady and Laurieann have split, making a few Little Monsters more than worried about Gaga's future.
Article continues below advertisement
OK! NEWS: LADY GAGA'S URINAL & KATY PERRY'S CLOTHES: HOW MUCH WOULD YOU PAY FOR A TASTE OF CELEBRITY?
Gaga has admitted that dancing isn't her strongest suit, yet Laurieann found ways to work with the singer and create a distinctive style for Gaga that works. Thanks to Laurieann, most agree that Gaga even outshone dancer extraordinair Beyoncé in their video for "Telephone" together!
But on Nov. 6, Gaga mysteriously Tweeted about her new choreographer and Laurieann's former #2, Richard Jackson: "Warming up with my choreographer Richard Jackson, singing + pinning garments till the last moment. So excited for The Night, gonna Marry It."
OK! NEWS: LADY GAGA WINS BIG AT MTV EUROPE MUSIC AWARDS
While neither Laurieann nor Gaga have expressed the reason for the break, it can be speculated that Gaga's increased use of controversial religious imagery may have acted as a catalyst.
Laurieann, who co-directed the video for "Judas," apparently clashed on set with the star, who was portrayed a sexed-up Mary Magdalene for the shoot.
The choreographer told The Hollywood Reporter, "At one point, there was two completely different views and after the third glass of wine, I was like, 'Listen, I don't want lightning to strike me. I believe in the Gospel and I'm not going there."
Article continues below advertisement
Gaga works hard to maintain a close relationship to her fans, acting as their "Mother Monster," and couldn't have been happy about Laurieann's Twitter blow-up (Interesting to note that Laurieann's Twitter account has since been deleted).
No matter the reason for the split, Laurieann's exile from Haus of Gaga puts a big question mark over Gaga's creative future.
After years of loving the collaboration between the Lady and Laurieann, fans no longer know what to expect with Richard Jackson, heightening anticipation before Gaga's next music video, "Marry the Night," is released later this month.