NEWS
Lady Gaga's Urinal & Katy Perry's Clothes: How Much Would You Pay For a Taste of Celebrity?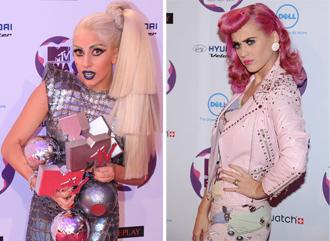 Today, eBay launched its celebrity auction site, where fans can bid on items from their favorite celebrities in order to raise money for charity. Only a day in, and eBay Celebrity already boasts auctions from Brad Pitt, Jeff Bridges, Sienna Miller and more!
OK! NEWS: LADY GAGA WINS BIG AT MTV EUROPE MUSIC AWARDS
They say money can't buy happiness, but what exactly can money buy from your fave celeb?
It turns out, for a pretty penny, Katy Perry will actually give you the clothes off her back!
Article continues below advertisement
The winner of Katy's auction gets two VIP tickets to her show at the Oakland, Calif., Oracle Arena, plus, backstage after the concert, Katy will personally give you the cotton candy dress she wore during her California Dreams World Tour!
But if glitter and tulle aren't your thing, then, for a starting bid of $1,500, you can join Heroes star Hayden Panettiere in VIP seats at the Nov. 27 New York Jets vs. Buffalo Bills NFL game. There is the potential for a little awkward rivalry though, depending on whom Hayden roots for.
One of the hottest items on eBay Celebrity is probably Brad Pitt's. For a starting bid of $10,000, you can drool over Brad in person when you and the Troy star take a private tour of the Make It Right home together. You and a friend will also be invited to the Make It Right March 10th gala, where you'll dance the night away with celebs, be put up in a beautiful hotel and have your dinner prepared by an award-winning chef. Not too shabby for 10 grand!
Article continues below advertisement
OK! NEWS: KATY PERRY SAYS CHILDREN WITH RUSSELL BRAND ARE IN "THE VERY FAR FUTURE"
But even those of you with a tighter budget can still get a taste of fame. Aspiring fashionistas and fans of actress Sienna Miller can buy a variety of items from the actress' closet with starting bids of just $0.99!
Of course eBay Celebrity isn't the only place fans can get a little piece of their favorite star. Just this past Saturday, a discolored molar that once belonged to John Lennon was put up for auction. The tooth ended up in the hands of a Canadian dentist who pulled out the winning bid of 19,500 pounds — that's $31,200 here in the U.S.!
Never one to be outshone, Lady Gaga stole the show once again when a urinal signed by the star went on sale earlier this week.
The "work of art" was used — as a prop! — in Gaga's infamous Vogue Hommes Japan photo-shoot in which she introduced the world to her alter-ego, Joe Calderone.
The Lady then became a literal potty mouth, signing the bathroom accessory: "I'm not a f***ing Duchamp, but I love pissing with you" — a reference to artist Marcel Duchamp's notorious 1917 piece, "Fountain" (a urinal).
Gaga then donated her urinal as a piece of art entitled "Armitage Shanks" to fashion site SHOWstudio.com, where one lucky fan could own it for a measly $460,000.
Buying and selling celebrity items is nothing new, though. In 2009, a lock of Elvis Presley's hair from his army days sold for $15,000. Scarlett Johansson sold a used tissue for $5,300 in 2008. And one teenage fan even bought Justin Timberlake's leftover french toast for $3,154 in 2006. Let's hope that wasn't her college fund!