NEWS
Larry King on Elizabeth Taylor's Death: "The Skies Are Weeping"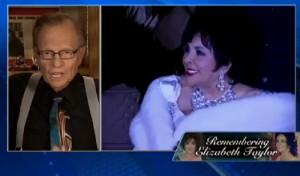 Larry King, former CNN host, welcomed Fox News Channel's Hannity into his home on Wednesday night to share is condolences on the loss of legendary actress Elizabeth Taylor.
OK! NEWS: ELIZABETH TAYLOR'S FUNERAL LIKELY TO BE IN L.A.; WESTBORO BAPTIST CHURCH TO PROTEST
"She was very special, Sean, Larry explained on Hannity, in his first interview since leaving CNN . In fact, it's kind of weird, it's pouring rain here in southern California. It's almost like the skies are weeping because she lived not far from where we're speaking."
Article continues below advertisement
"She was an extraordinary lady," he explained. "She was a major film star at age 14 with National Velvet. She's been in the public consciousness for 65 years. And as you said, she was a true movie star."
"In fact, she is the last of the great movie stars," Larry added. "Never been anyone like her from the way she looked with those incredible eyes, to the way her life went with pain and joy. She was — she wrote her own chapter in a book that's hers."
Article continues below advertisement
"When people wouldn't — you know, there were Hollywood stars that wouldn't talk to her, wouldn't go to any of her rallies to try to raise money for AIDS because of fear of being associated with it. She stood up, "Larry explained. "She stood up for Michael Jackson in his worse days."
And it was her dedication and loyalty that Larry really admired about Elizabeth.
"It matters not whether you agreed with her or not. It was her ability to be so forceful for so many things and loyalty — which to me is the number one attribute anyone can have, was her number one thing," Larry shared. "If she was your friend, Sean, she was your friend. You can't buy loyalty."
Watch Larry's interview below!