NEWS
Len Goodman on Kendra Wilkinson: "Just Let Her Shake & Bake There for Me"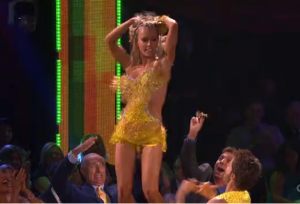 As the competitors get more serious, Dancing With The Stars judge, Len Goodman, can't help but get funnier! After Kendra Wilkinson's booty-shaking judge's table dance, Len, well, just couldn't help but look up! He described the dance as "a lot nicer than the cupcake that ABC gave me as a birthday gift."
OK! BLOG: KENDRA WILKINSON: I FELT AMAZING
"I have a little bit of a boob fetish the first few weeks but I had a little bit of a butt fetish last night with Kendra there shakin' the bacon," Len told reporters last night after the results show. "I tried not to look up. I said, 'No, stay calm. Think of England. Royal Wedding, Royal Wedding.' I couldn't help myself. I had to look up her skirt. Everything was tucked in and gorgeous."
Article continues below advertisement
Not only does Kendra know her way to Len's heart, but has won him over as most improved contestant too!
"Kendra, for me, is the most improved one of them all." Len explains, "She never came out and performed but the last two weeks she's come out stronger and if you watch her dancing, watch her feet and legs. They're strong. They're straight. She's the most improved."
OK! NEWS: DANCING WITH THE STARS SAYS ADIOS TO CHRIS JERICHO
So how could Kendra's dance and improvement possibly be topped?
Len told OK! "The perfect way would bring back Wendy Williams and get her on that table... and just let her shake and bake there for me."
By Alannah Scharfenberger with reporting by Amanda Champagne