NEWS
Life After 'Project Runway': Buffi Jashanmal Talks the Avant-Garde Challenge and Predicts the Winner!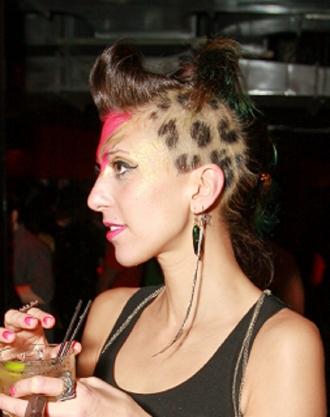 I can't say I envy them, what I can say is BIG UP RESPECT to all of them that made it that far.  It takes endurance, talent and a hell of a lot of coffee to make it that far.  I'm more than happy to get KO'd so early, everyone looks tired and pretty beat up, but WOW must they be feeling great. 
OK! GALLERY: HEIDI KLUM LOOKS SMASHING AS SHE TALKS PROJECT RUNWAY ON GOOD MORNING AMERICA
All of them are winners in my eyes and I hope Sonjia Williams knows that she is super talented to have made it that far, love how she said she'll make it to fashion week, and  "won't be sharing the runway with anyone else" OUCH! You go girl! She is seriously one focused and talented lil mama, and I am sure she will find a lot of success, post-Project Runway.  In the first week's challenge I was already freaking out with time, and she was super helpful getting me to calm the f*** down and helped me out big time, I won't forget that, girl!
Article continues below advertisement
I have, from day one, had my bets on Chris Palu, I think he is sooooo Project Runway! He is talented, focused, funny, and if his fashion career ever fails, I suggest he get on stage, that boy can dance! Haha! I'm rooting for ya love!
Go Melissa Fleis, the only girl to remain in the competition. From day one, I admired her skill and style, if only I was cool enough to wear her clothes! Seriously, too cool!  I don't think she has ever fit the Project Runway main-stream mould, so I love that someone so edgy and cool made it through.
OK! GALLERY: HEIDI KLUM VISITS NYC'S HUDSON RIVER PARK WITH HER KIDS
Slightly confused by the looks everyone created this week, however. I think Fabio Costa was the only one that made something avant-garde. I mean, yea, as I loved Chris' and Dmitry Sholokhov's work, I didn't see how they were avant-garde.  I think Sonjia struggled with the challenge, but I loved the garment she produced, I would totally wear it! 
Article continues below advertisement
All the guys going to fashion week deserve to be there. I love how different they all are and am just as curious as you guys to find out who wins. I have so much respect for all of those that made it so far, I don't think I was cut out to be a Project Runway winner... I like to procrastinate, take naps and bake too much while I am sewing, and there wasn't a bed or oven in sight in the workroom would you believe?
Who do you think is going to win it all on season 10 of Project Runway?