NEWS
Linda Evangelista Wants Salma Hayek's Husband to Pay $46,000 a Month in Child Support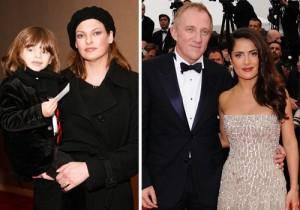 Article continues below advertisement
And yes, that's as shockingly huge an amount as you think.
"That would probably be the largest support order in the history of the Family Court," Support Magistrate Matthew Troy said.
An exact amount is expected to be decided next month when both parties return to court.
OK! GALLERY: SALMA HAYEK & HER HOLIDAY PRINCESS VALENTINA PINAULT MEET SANTA!
Francois has a 3-year-old daughter, Valentina, with his wife Salma and Linda's lawyer, William Beslow, claims he pays for the care of his daughter but hasn't paid a penny for his son.
"He's just been sitting back, paying zero," Beslow told the magistrate on Monday.
So why $46,000?
Well, Linda's lawyer reportedly claims she needs the money to cover the nannies and security/drivers necessary for a single mother to a son of a billionaire.
"These are the extraordinary expenses that may be a part of the child's life," the judge said. "And if there is a trial in the support case with a lot of publicity, there will probably be a need for two detectives to drive this kid around."
As for the nannies, the judge asked Linda how many hours a week she works.
"On days when I do not work, I am working on my image," she said. "I have to hit the gym. I have beauty appointments. I have to work toward my next job and maintaining my image — just like an athlete."
Guess we'll have to wait and see if she gets all $46,000 a month she's asking for!