NEWS
Lindsay to Get New Alcohol Detection Bracelet, Random Drug Testing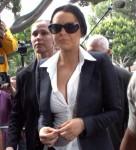 Although Lindsay Lohan was a bit late getting into court this morning in L.A., Judge Marsha Revel said she wouldn't hold that against her, considering her security issues. However, she did rule more strictly against the starlet than her lawyer, Shawn Chapman Holley, seemed to agree with.
While setting the conditions of Lindsay's bail in her DUI probation violation, Judge Revel said: "Those conditions were and are to be the following: That she will as a condition of remaining out on bond, drink no alcohol, have a SCRAM device put on within 24 hours of today's proceedings, submit to random drug testing at the rate of once per week... she must attend all of her alcohol classes as scheduled unless the class interferes with a random drug test, the random drug test will take priority, that will be the only way she can miss a scheduled appearance."
Article continues below advertisement
OK! NEWS: LINDSAY LOHAN FINALLY MAKES IT TO COURT
Lilo's lawyer said she had been planning to attend classes daily, but Judge Revel disagreed with that plan, unless they are extra classes, saying she has heard it's better to go at a rate of once a week, as it's more beneficial.
With respect to the SCRAM device, Holley made a case for an alternate suggestion, as Lindsay has "a number of upcoming photo shoots" and will be "continuing to film a movie in Texas," which would both be hindered by the bracelet.
OK! VIDEO: LINDSAY LOHAN CLEARS HER NAME BEFORE COURT HEARING
Instead, Linds' lawyer suggested she be randomly tested for drugs and alcohol in Texas. But Judge Revel wasn't going for it, and laid a legal smackdown on that plan.
"She needs to submit to random drug testing here, she's going to have to delay that for now. That will prevent her from complying with that order," said the judge, prompting Linds' to look far from pleased. Holley suggested that there are "reputable labs in Texas."
Article continues below advertisement
"It's gonna be drug testing here," asserted Judge Revel.
OK! NEWS: CAN LINDSAY LOHAN ABIDE BY JUDGES' ORDERS?
After taking a moment to confer with Lindsay, Holley said she accepted the conditions of bail
"Just to remind you you are not allowed to drink any alcohol beverages, I'm ordering random testing locally," reiterated Judge Revel, adding,"Failure to show up to a random drug testing is the same as a dirty testing."
OK! NEWS: LINDSAY LOHAN FINALLY HEADS HOME FROM CANNES
"You are to attend all scheduled alcohol testings at the rate of once a week. The only excuse to miss a class will be if you are notified you are to show up for random testing. Do you understand the conditions of you remaining out on bail?" asked Judge Revel.
"I do," replied Lindsay.
Her formal violation hearing has been scheduled for July 6.
Lindsay is staying in the courthouse for another 45 minutes to one hour, says the Public Information Officer, to be fitted for the SCRAM bracelet. She will leave the courthouse with it on.