NEWS
Lindsay Lohan to Be Investigated in Battery Case After Alleged Bar Trip?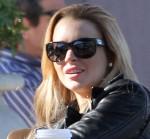 Oh, Lindsay, Lindsay, Lindsay... Why can't you just stay out of trouble and get better? Lindsay Lohan, who has been living in a sober residence run by the Betty Ford Clinic and dutifully attending to her substance abuse problems, could be the subject of a criminal battery investigation after she reportedly headed out to a bar about a week ago.
OK! GALLERY: LINDSAY LOHAN'S HOUSE IS A SHINING SOBER BEACON
Article continues below advertisement
Those enrolled at Betty Ford are not supposed to be engaging in activities like going to bars, and now TMZ says that she and her roommates went out on the town after throwing a party at their home Dec. 11.
The story goes on to say that a staff member of Betty Ford confronted them when they came back home, and that the alleged victim, a female staffer, called the Palm Desert Police Department at 1:03 a.m. Dec. 12 to report "hand-to-hand battery."