NEWS
Lindsay Lohan's Roommates Throw a Party; Betty Ford Not Happy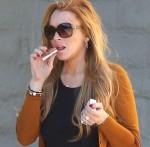 How come trouble seems to follow Lindsay Lohan wherever she goes, especially when she's trying to get sober? A new story says Lilo's roommates at her sober living residence threw a not-so-sober party on Saturday, ticking off the good people at Betty Ford Clinic in the process.
OK! GALLERY: LINDSAY LOHAN'S HOUSE IS A SHINING SOBER BEACON
TMZ says the "booze was flowing" at the shindig, and that Lindsay's roommates were drinking heavily. However, there's no evidence that Linds was drinking, and sources are indicating she wasn't part of the booze-a-palooza.
Article continues below advertisement
Betty Ford found out about the party at a satellite house they run, and subsequently moved the girls back to the center's main facility for increased supervision.
OK! NEWS: LINDSAY LOHAN'S HARASSER IDENTIFIED AS FORMER BRITNEY SPEARS PAL?
They've also reportedly decided that Lilo can't leave the area for Christmas, as originally planned, and Lindsay is also back at the main facility for "intensive therapy," not for punishment.