NEWS
Lindsay Lohan's Emergency Hearing Could Result in Early Rehab Release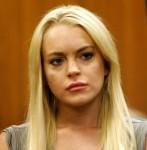 An emergency hearing has been called for Lindsay Lohan's case on Wednesday at 1:30 p.m. PT at the Beverly Hills Courthouse and it's Lindsay's early release from rehab that's believed to be the issue Judge Elden Fox will order. But sources close to the star have mixed feelings about Lindsay's early release.
OK! GALLERY: LINDSAY IN REHAB MEANS SALON DAY FOR DINA & ALI LOHAN
While some may believe releasing Lindsay from rehab earlier than the 90 days Judge Marsha Revel previously set is the right thing to do, others worry about Lindsay's health.
Article continues below advertisement
"Of course her UCLA doctors think she's fine. Lindsay, as much as I love her, is an actress," a source close to Lindsay explains to OK!. "The best in the business. And she can convince just about anyone, except a drug test or a SCRAM bracelet, that she doesn't have an addiction problem. But she does.
OK! NEWS: LINDSAY LOHAN TO LEAVE REHAB EARLY?
"And I hate to say this because it sounds like I'm wishing her the worst, but she will relapse when she leaves UCLA, unless she spends more time in an in-patient rehab," the source adds. "Her system may be cleaned out of pills right now, but unless she gets away from the bad friends she has in L.A., and unless she gets into serious family therapy, the weakness in her personality will resurface.
"Don't think for a minute that she's going to walk out of UCLA completely clean and sober," the source close to Lindsay warns. "She's on medication that is legal, yes, but she's still on pills. And Xanax and such are mind altering. Have you ever taken an Ambien or Xanax? You're high, right? So though she may be clinically prescribed these meds, it triggers that reaction in her that makes her want to take more and more and more the minute something doesn't go well in her life."
Article continues below advertisement
OK! VIDEO: DINA LOHAN SAYS JUDGE WENT OVERBOARD WITH LINDSAY'S SENTENCE
What Lindsay does need is treatment with her family by her side.
"I've urged her mother so much that I've lost my voice. We must all put our differences aside and go into treatment together as a family, or those demons inside her won't be exorcised," the source explains to OK!. "And she'll do what she always does, she will use substances to escape from them."
OK! NEWS: LINDSAY LOHAN "DYING TO EXERCISE" IN REHAB
However, a second source close to the situation believes Lindsay will be just fine after she leaves rehab and moves to New York.
"I've been in New York so I haven't gone in to see her, but I know for sure that Dina Lohan has an outpatient rehab that she's really keen on for Lindsay," a source reveals to OK!. "It's in Connecticut and it's expensive, of course, and far away from the Hollywood party scene.
Article continues below advertisement
"And in an exceedingly rare moment of cohesiveness, Dina and Michael Lohan both agree on this place for her," the source adds. "It's perfectly posh and it will give her the transition time she might need, though she doesn't feel that way. She's fine and bored and feels she's wasting her time at UCLA. She was almost completely off her meds by the time she left Lynwood so there wasn't much more that the hospital could have done for her.
OK! NEWS: MICHAEL LOHAN — "DINA NEEDS THE REHAB FOR DENIAL"
"She's gotten about 10 movie offers, playing all kinds of different characters that she's really excited about," the source tells OK!. "So the minute the judge says she's free, she'll have about three years' worth of work lined up for her."
And friends of Lindsay even claim that the actress will by flying to New York for Fashion Week and will be going to "more than a few shows."