NEWS
Lindsay Lohan's 'Playboy' Shoot Is "Tastefully Done" Says Dina Lohan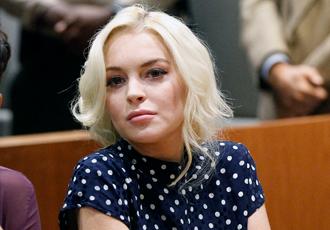 Judge Stephanie Sautner gave Lindsay Lohan until Nov. 9 to surrender herself to the L.A. county jail for her 30-day sentence Wednesday at her hearing, but why wasn't LiLo put behind bars on the spot?
Because she had to fulfill some work commitments — aka finish up her widely-talked-about Playboy shoot!
OK! GALLERY: LINDSAY LOHAN GETS CLASSY FOR PROBATION HEARING
So how is the shoot going to play out?
Article continues below advertisement
The photos will reportedly be "tasteful."
"It will be tastefully done," Dina Lohan tells The Insider, in an interview to air tonight. "She's been working in front of the camera with Ford Models since she was a little girl so she kinda knows how to work that."
What exactly classifies tasteful? No full frontal nudity, according to Dina.
There is also a chance Lindsay will not appear on the cover for the mag. She is slated to be in the December or January issue.
"Lindsay and Mr. Hefner will decide," Dina said of what photos will be used. "She'll pick five cover options, he'll pick the one he wants."
Lindsay was found in violation of her probation on Wednesday in L.A. by Judge Sautner and sentenced to serve 30 days in jail.
OK! NEWS: LINDSAY LOHAN SENTENCED TO 30 DAYS IN JAIL; SAYS "THANK GOD"
According to the L.A. County Sheriff's Department, LiLo will only have to serve about 20 percent of the 30 days, or 6 days behind bars.
She is ordered to surrender by Nov. 9 to begin serving her time.