NEWS
The Little Couple Announce They're Adopting Again! Get All the Details on Their New Daughter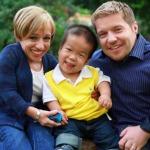 Bill Klein and Jennifer Arnold's family is doubling in size!
The Little Couple stars reveal that not only have they adopted a 3-year-old son, William, from China but also a 19-month-old Indian girl.
Photos: The Little Couple Stars Show off Their New Son
"So while Bill and I have been going through this process and all of the paperwork to adopt our son, we actually found a daughter from India," says Jennifer. "She's a little person like Bill and I. Of course, the moment we saw her we knew we wanted her too. And so we've also been simultaneously starting the adoption process for her."
Article continues below advertisement
Photos: Meet Bill Klein and Jennifer Arnold's Son Ben!
The couple has already decided on a name for the toddler. Jennifer says she and Bill wanted something American, and she's always loved the name Zoey.
Send your congratulations to Bill and Jennifer on their adoptions of William and Zoey in the comments section or on Twitter @OKMagazine