NEWS
The 'Lost' Diaries: Playing Catch-up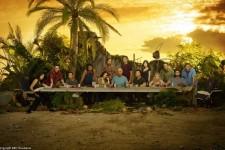 The final season of Lost debuts tonight at 9 p.m., ET, and okmagazine.com will be discussing every scintillating moment of what is now considered one of ABC's most successful shows ever. Check back every Wednesday until the glorious finale this spring for recaps, discussions, debates and theories — basically anything and everything Lost!
But first, let's play a little catch-up…
When we last left our beloved Losties at the end of season five, we were also left with a dramatic cliffhanger — or bottom-of-a-hole hanger, to be more exact. Stuck in the '70s, the crew had unsuccessfully tried to blow up the Dharma Initiative's Swan station — with a bomb the Others had buried on the island 20 years prior.
Article continues below advertisement
Juliet Burke (Elizabeth Mitchell) had slipped through the fingers of James "Sawyer" Ford (Josh Holloway) and fallen into the drilling hole where the bomb was located.
The Dharma folks had been this close to causing what is known in Lost history as "the incident" — the event that would lead to a leak in electromagnetic activity, the catalyst for the crash of Oceanic 815.
But then Juliet, on the brink of death from her steep fall, desperately battered the bomb with a large rock, eventually detonating it.
And all we know about that explosion is that it could... possibly change everything!
OK! NEWS: EVANGELINE LILLY GOING TO "CRY LIKE A BABY" WHEN LOST ENDS
By the end of season five, Daniel Faraday (Jeremy Davies) had theorized that if "the incident" had "never happened," then the crash of Oceanic 815 also "never happened," something Jack Shephard (Matthew Fox) really liked the sound of. Though skeptical at first, Kate Austen (Evangeline Lilly) eventually agreed with the idea of exploding the Swan in order to avoid all the hardships the plane crash had wrought upon her. And Juliet got on board only because she realized life would be easier if she didn't have to witness Sawyer's feelings for Kate. Not one of them really knew what the repercussions would be. For Jack, the man of science, it was an impressive leap of faith.
Article continues below advertisement
The main question as we enter this new, and supposedly final, season of Lost is "Did it work?" And how will the executive producers, Damon Lindelof and Carlton Cuse, wrap up six seasons of this cult favorite — and perhaps bring back viewers who have strayed in recent years?
And why does Richard Alpert (Nestor Carbonell) wear guy-liner?
In the spirit of entering this exciting final season, here's a round-up of 16 — ugh, Hugo "Hurley" Reyes (Jorge Garcia) might not be happy with that number — of the most intriguing unanswered questions from the past five seasons.
1. Why doesn't Richard age? At the end of the fifth season he said, "I'm this way because of Jacob Mark Pellegrino." What does that mean?
2. How does the smoke monster choose its victims? Why does it come from the temple? What is the temple's connection to Jacob and the statue of the Egyptian god Horus? Does Jacob control the smoke monster? Does the "Man in Black" (Titus Welliver)?
3. Who or what is the Man in Black? Was he living in "Jacob's cabin" and then escaped it?
Article continues below advertisement
(Warning: crazy Lost theories ahead …)
So far, here is what we know about the cabin:
Led by Benjamin Linus (Michael Emerson), because the cabin's impossible to find, John Locke (Terry O'Quinn) "met" some kind of spirit inside of it (the spirit said, "Help me" to Locke, but Ben said he couldn't hear anything); Locke had a dream about the Dharma Initiative's Horace Goodspeed (Doug Hutchison), who told Locke that he was building the cabin for his wife; Locke later encountered an otherworldly Christian Shephard (John Terry) and Claire Littleton (Emilie de Ravin), who was presumably dead at that point, in the cabin; Hurley freaked out after spotting a scary eyeball in the cabin's window; and, at the end of the fifth season, Ilana's (Zuleikha Robinson) group found the cabin, minus the circle of black ash that had surrounded it. Whatever had "escaped" the cabin, Ilana, Bram (Brad William Henke) and the rest seemed to know that it was not something positive.
OK! NEWS: DOMINIC MONAGHAN LOOKS FORWARD TO THE FINAL SEASON OF LOST
Based on this – and knowing that the Man in Black possessed Locke's dead body in the end of season five in order to convince Ben to kill Jacob – can we deduce that the Man in Black can possess any dead body on the island? Could he have done so with the body of Christian Shephard on multiple occasions, all in an effort to trick Locke into helping him?
Article continues below advertisement
4. Who was Jacob talking about when he said, "They're coming?" And what is it about his touch that marks each of the people he visits in the off-island world? The people he visits are, as follows: Kate, Sawyer, Locke, Hurley, Sayid Jarrah (Naveen Andrews), Sun-Hwa Kwon (Yunjin Kim), Jin-Soo Kwon (Daniel Dae Kim) and Jack.
5. How could the Others worship someone like Jacob (who seems to be a benevolent force) and yet commit murder and kidnap people and do everything in their power to keep the island a secret?
6. What's the deal with Charles Widmore (Alan Dale), anyway? Why is he so protective of the island? Why does he do such underhanded things in order to get back to it? Why does he have a painting in his office that's a near replica of the cave paintings once shown in the Swan station? Why does he hate Desmond David Hume (Henry Ian Cusick)?
7. What is so special about Desmond that time travel does not seem to affect him the same way it does other characters? Why is Desmond the favorite character of so many female viewers? Wait, that's not really a mystery …
Article continues below advertisement
8. Why is Christian Shephard so connected to each character, perhaps more so than anyone else on the show?
9. If Juliet sets off the bomb and causes "the incident" in the '70s, how does it alter the future for the Losties? If the bomb explodes, do they die or do they just get zapped back into their present-day bodies? (Characters have a habit of doing that on Lost now, just body-hopping through time, Billy Pilgrim style.)
10. Why is it that people who are supposedly dead are sometimes seen walking around on the island? What is the whispering?
OK! NEWS: MATTHEW FOX SAYS "I'M A DOLL!"
11. Does every character who time-travels to the '70s actually cause the problems they have to deal with in present day? It seems that the interactions Jack, Kate, Sawyer, Juliet, Miles Straume (Ken Leung), Hurley, Sayid, Faraday and Jin have while sporting their cool '70s jumpsuits and even cooler '70s hairstyles (quite possibly the best part of the fifth season) are directly connected to who they are in 2007 …
Article continues below advertisement
For example: If Juliet detonates the bomb and inadvertently causes "the incident" (instead of avoiding it, as everyone had hoped), could she be the source of why women can't have babies on the island? It would be the ultimate in ironies, considering that she is recruited in present day to come to the island as a doctor who might be able to fix that problem. Also, we learned last season that the monster that is Ben Linus might be a direct result of time-traveling Sayid shooting him (and, of course, Ben's alcoholic father – Jon Gries, otherwise known as Uncle Rico from Napoleon Dynamite).
12. Why is it that certain characters can't die on the island if it is not yet time for them to do so? Why does every character show their best side when they're on the island and their worst side when they are off of it?
OK! NEWS: LIFE'S FULL OF LAUGHTER FOR ELIZABETH MITCHELL!
13. What's the story behind the Black Rock? Was Richard Alpert on it? We also need a little more explanation behind how Radzinsky (Eric Lange) and Dr. Pierre Chang (François Chau) end up programming those Dharma stations (with the hieroglyphics, etc.).
Article continues below advertisement
14. Why did Claire disappear? Did she die?
15. Has this whole thing just been about the debate Jacob has with the Man in Black, and has it happened several times, with the same characters (because of the time traveling), although not one of them knows that this is the case?
16. Why is the island so hard to find, and why does time travel seem to be a key component in getting on or off of it? Why does turning the frozen donkey wheel make characters end up in the middle of the desert? And, most importantly, what's with the polar bears?!
Please feel free to add your own questions (and answers) below!
By Laura Carney