NEWS
Malan's Musings: Fashion Friday Is Here!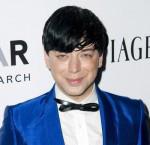 Every week at okmagazine.com, accomplished designer Malan Breton takes a look back at the week in fashion — the Do's, the Dont's and everything in between! Join Malan and OK! for Fashion Fridays!
Darlings, it's Friday! Every week we ponder the thoughts of stylists everywhere, dressing the most beautiful women in the world! Well, this week, it's all about the men!
The men are moving fashion in ways that women of long ago only dreamed. The sad and unpolished days of old are gone and we are seeing a sort of rat pack revival in style and Hollywood!
Article continues below advertisement
The all American Trevor Donovan should not walk an awards carpet without a jacket! Though he looks handsome in his shirt and trouser ensemble. And, darlings, he wore a belt — kudos to him for that!
Where Dermott Mulroney, who looked stylish in a very corporate way, did not!
Pet peeve number one as a menswear designer! Always wear belts, socks and deodorant.
When discussing men's style one must remember, there are not as many options for men in clothing as women. Often you will see a man in a very smartly tailored suit then that same suit in a different color. A simple collar change and a tie makes that look fresh and lovely.
Article continues below advertisement
BTW did any of you notice Juliette Lewis' blue coif! Darlings, how mid-century modern of her!
Well, darlings! Until we meet next Friday, have a glamorous week and try each day to feel a bit more radiant because luminous style makes everyone feel like a star!
Malan
Follow Malan on Twitter at twitter.com/malanbreton and on Facebook!