NEWS
Mariah Carey Denies Kim Kardashian Divorce Jab: "I Don't Look at These People"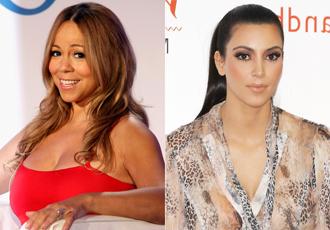 Article continues below advertisement
"There's no teams; me and Nick are the same team always ... Sometimes we make each other mad," Mariah shared. "That's why we're not divorced after four months. I'm just saying this Hollywood thing ... did I say something that is wrong?"
The last statement had the crowd laughing, as it seemed Mariah was taking a jab at Kim who has been in the spotlight for her divorce drama.
But Mariah cleared the air, denying the Kim divorce diss to Extra.
"First of all, I don't read the tabloids unless it's about me. And even then, when it is about me, I try not to read it unless it's good," she told Extra. "I don't look at these people."
She added: "I don't even know what it is, but I do know that marriages come and go really quickly in Hollywood."
Mariah divorced record exec Tommy Mattola in 1998, and she said when she married Nick she knew it was forever.
OK! NEWS: MARIAH CAREY CAN ONLY "TRUST" NICK CANNON SOMETIMES & HE'S NOT ALWAYS NICE!
"A lot of people have high-profile moments, and then they get a divorce, and I'm sure it's very painful for them," she explained. "My thing is: I don't want that. I got married to stay married. I want some stability for our kids, and Nick feels the same way.
"Not only are we both kind of jokesters, for the lack of a better word, we are also kind of provincial in that way. I think we both believe in trying to make it through. I'm proud of it."