NEWS
Mariah Yeater Storms Out of Interview Over Justin Bieber Baby Claims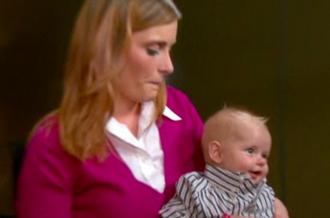 Mariah Yeater is still moving forward with her claims that Justin Bieber is the father of her 3-month-old son despite his statement that he's never met her. The 20-year-old California women sat down with The Insider to defend her allegations, but ended up storming out twice!
OK! NEWS: MARIAH YEATER SPEAKS OUT ON JUSTIN BIEBER BABY-DADDY CLAIMS — "MY ALLEGATIONS ARE TRUE"
The second part of Mariah's interview with The Insider airs tonight and it looks like the conversation gets heated.
Article continues below advertisement
The new mom, who brings her son on the show, claims she had unprotected sex with Justin in a backstage bathroom at his L.A. concert in October 2010.
Mariah says she's is prepared to defend herself no matter what is brought up from her past to use against her claims.
"Everyone's had a past and made mistakes — there's nothing wrong with that," Mariah tells The Insider. "No one's past should matter toward a future, or anything of that matter."