NEWS
Marie Osmond "Has Loving Arms Around Her" Says Old Friend Mary Hart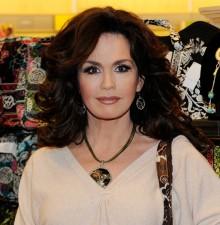 Entertainment Tonight's Mary Hart, a longtime close friend of Marie Osmond, says the showbiz legend has withdrawn to be with her family to grieve for her son who committed suicide on Friday.
Mary told The Early Show on Monday that Marie had seen 18-year-old Michael just a month ago in Los Angeles.
OK! NEWS: MARIE OSMOND'S SON COMMITS SUICIDE
"He had struggled," Mary says. "He had been in and out of rehab. And, Marie, always looking for the silver lining, had always hoped for the best.
Article continues below advertisement
"He was in excellent spirits. I've seen him throughout the years, but on this particular day, he and Marie were so excited about him attending the Fashion Institute of Design and Merchandising in L.A.
OK! NEWS: MARIE OSMOND'S SON ADMITTED UNHAPPINESS IN FINAL NOTE
"They were upbeat, and he was very happy, and seemed to be looking toward the future."
Mary found out on Saturday morning that Michael had lost his battle with severe depression and leapt to his death off the L.A apartment building where he lived.
OK! NEWS: MARIE OSMOND'S SON MICHAEL ENTERS REHAB
Michael's death was a horrifying shock for one of his roommates who told Mary: "He's probably the funniest, happiest guy I've ever met in my entire life. This is something I would never expect."
Mary says, "my dear friend Marie, is finding solace in her faith and her family. And I find tremendous grace in her own words: 'I really believe that it's the lows that make us who we are. It's not the success. It's how we handle all that'."
OK! NEWS: ANDREW KOENIG'S PARENTS GRIEVE FOR THEIR SON
Right now, she says that Marie is handling everything privately and, although the Osmonds live by the motto, 'The show must go on,' for Marie, it is just too soon: Donny and Marie's show at the Flamingo Hotel and Casino in Las Vegas has been suspended until further notice.
"You can bet," says Mary, "she has loving arms around her. The Osmonds are a very close-knit family and, in times of loss or tragedy, they support each other and really band together as a family, and in love."