NEWS
Matinee Canceled for Broadway's Spider-Man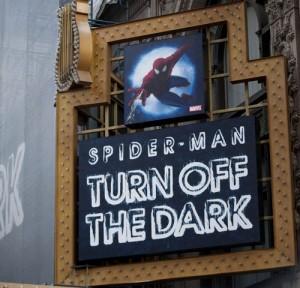 It seems like the Broadway production of Spider-Man: Turn Off the Dark just can't get a break... or it's getting too many of them. Today's matinee performance was canceled after the stunt actor playing the webby one fell 30 feet last night into the theater's pit during Monday night's show.
OK! NEWS: BROADWAY SPIDER-MAN STUNT ACTOR FALLS 30 FEET TO STAGE
And Christopher Tearney, lead stunt double for Spidey, is not the only one who's sustained injuries during the rehearsal and performances of the show, three others have been hurt since September, according to the New York Times.
Article continues below advertisement
These unfortunate incidents have prompted federal and state occupational safety inspectors and the Actors' Equity Union to look into the show's equipment and meet with the production team at the Foxwoods Theater on Broadway.
OK! PHOTOS: FIRST PHOTOS OF EMMA STONE FILMING SPIDER-MAN REBOOT
Tierney's Monday fall was said to be an accident, the result of "human error," a spokesperson said.
The show must go on, in most cases, at least, and spokesman Rick Miramontez told the NYT it would go on tonight.
"The production knows exactly what happened at Monday's performance, and it is being dealt with. This is a maneuver that has been done hundreds, if not a thousand times, without incident, and additional redundancies are being put into place to ensure that will never happen again," he said in an email, in reference to the accident.
OK! NEWS: SPIDER-MAN MUSICAL OPENING NIGHT POSTPONED AGAIN
Thus far, Spider-Man has been a $65 million production, and one of the most expensive and technically difficult pieces to pull off.