NEWS
Duped! Inside The VMA Event That's Being Called A 'Fyre Festival' Scam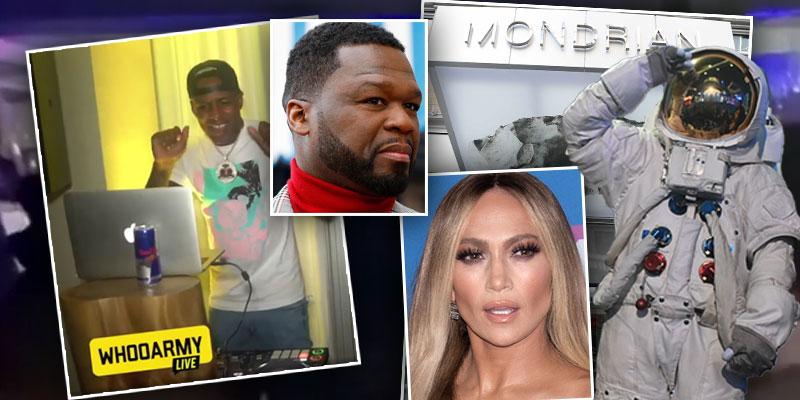 It was promised to be the biggest event since the coronavirus pandemic sent the world into quarantine. However, the MTV Video Music Awards celebration — which was to feature a red carpet, VMA signage and appearances from stars like Jennifer Lopez, 50 Cent and The Weeknd at the Mondrian Park Avenue — is now being dubbed the "Manhattan Fyre Festival," meaning everyone was completely duped!
Music industry insider Matt Forester orchestrated the fake weekend-long event, billed to be the best gathering since the pandemic. He even got record executive Scott Koeppel to pay thousands of dollars to sponsor the weekend event, claiming it would be featured on MTV's Video Music Awards; instead the police showed up to shut down the party due to noise complaints.
Article continues below advertisement
Much like Fyre Festival founder Billy McFarland, Forester made promises he simply couldn't keep — even telling Page Six on August 13 that the event would feature "basically the whole VMA talent pool." But he lied about almost everything.
"We were going to be b-roll for the live show," Koeppel, the CEO of hip-hop and pop label Run It Up Recordings, told Page Six of Forester's promises. "My artists would be on the screen. He said a MTV film crew was going to follow us around for the whole weekend."
WATCH: 10 OF THE MOST INSANE MOMENTS IN MTV VMAS HISTORY
Koeppel estimated that Forester conned nearly $50,000 out of him. However, responding to the numerous allegations against him, Forester denied any wrongdoings and blamed Koeppel for "creating his own reality."
"Nobody said to him there would be MTV cameras," the event planner explained to Page Six. "What I said to him was very clearly, 'I think what we could probably do is get a b-roll follow system, so when you come in, would you like to have a camera there? And then you could use that internally.'"
Article continues below advertisement
However, after Page Six spoke to several participants, others also said that the organizer misled them. "MTV will require exclusive use of the boardroom beginning Thursday evening for talent holding, makeup, hair, and wardrobe. We will place the signage indicating such on the door," read an email by Forester according to Page Six. (MTV declined to comment on the party, and it appears the network was not at all involved with the event.)
The build-up to the event was filled with lavish promises. In August, Forester told Page Six that the event was "trying to figure out how to somehow film live performances so Viacom can throw them together since the VMAs got thrown out of the Barclays Center." Forester had even invited several music insiders and media outlets to his event.
The event fell apart after DJ Whoo Kid, a Sirius XM DJ, agreed to participate in the weekend event to connect with big stars in the industry. He was told that 50 Cent was also scheduled to attend, but when he contacted the rapper's production manager, he discovered that 50's team was "unaware of the event."
Article continues below advertisement
The DJ expressed his concerns to Koeppel, who said that he was too "knee-deep" in sponsors' money even to pull out.
When Whoo Kid and Koeppel arrived at the venue on August 29, there was another warning sign — no MTV officials were present at the venue. The hotel lobby was almost empty, and there was just one employee at the front desk.
MILEY CYRUS CLAIMS VMA DIRECTOR MADE SEXIST COMMENTS ABOUT HER PERFORMANCE
When the party finally unfolded, Koeppel was seen shouting and was quite upset that there was no MTV crew in sight. The party was eventually shut down by the police over three complaints from neighbors outside the Mondrian Park Avenue hotel.
Numerous blogs have accused the Canadian organizer of shady behavior in the past. "His scams are well-planned. He always stays just far enough from fraud to ensure that people have to do civil suits, which are slow, expensive and never work. The police are very aware of him as everyone scammed that I know has filed a report, this includes businesses, landlords, ex-girlfriends, etc.," a source told Page Six.
Article continues below advertisement
According to a blog, the alleged scamster frequently changes his name and moves places. Forester planned the event by cultivating relationships with industry insiders months ahead of his event. He makes it appear that "he is the connection" that the producers need.
Koeppel told Page Six that he would sue Forester for the alleged VMA scam; however, he doesn't expect to get his money back. "The only thing I can do with him is exposure," Koeppel said. "So that it doesn't happen to the next person."