NEWS
Matt Lauer Says "We Stand By What Happened" With Kanye West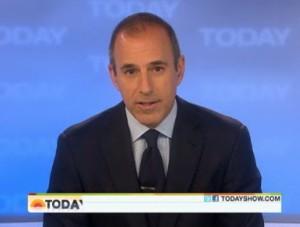 Kanye West said he felt "tortured" by Matt Lauer after he went on the Today show for a pre-taped interview to apologize for calling George W. Bush a racist. Now, Matt has aired the full interview for viewers and arguing back with Kanye saying, "We stand by what happened."
OK! NEWS: KANYE WEST TWEETS: MATT LAUER "TRIED TO FORCE MY ANSWERS" ON TODAY
During the interview, Matt talks about Bush calling Kanye's comments one of his "most disgusting moment" during his presidency and wants Kanye to see the emotion on Bush's face.
Article continues below advertisement
"I didn't need you guys to show me the tape to prompt my emotions," Kayne said. "I came up here because I wanted to say something right after the fact. This is the reality, this is the real thing going on. I don't need all the jazz."
Matt also brings up the Taylor Swift MTV VMA incident. The Today show plays a segment of Kanye and Taylor on stage while Kanye is trying to answer the question and he seems to get frustrated by the background noise.
What do you think? Watch the interview below!
Hopefully the Today crew can kiss and make-up with Kanye soon, he's scheduled to perform on the show Nov. 26!