NEWS
Melanie Griffith and Antonio Banderas to Divorce?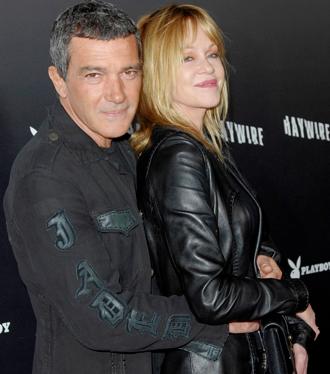 Has another long-time celebrity couple bit the dust?
OK! NEWS: ANTONIO BANDERAS REVEALS THE SECRET TO A PASSIONATE MARRIAGE
A rumor's been circulating the web that Melanie Griffith and Antonio Banderas are close to calling it quits after 15 years of marriage — which is practically a lifetime in Hollywood.
A source says Melanie is "distraught" over the demise of her "fairytale." The pair met on the set of Too Much in 1995 and have been inseperable since.
Article continues below advertisement
"They used to be the most passionate couple, they couldn't keep their hands off each other. But they haven't been intimate in months and rarely even sleep in the same room these days. It's not good," the source close to the couple tells Radar Online.
Their time together has become so strained, their daughter Stella and Melanie's two other children from previous relationships are reportedly the only factors keeping them together.
That being said, the couple have endured a few "rough patches" before, so neither party is rushing to file for divorce "until they are 100 percent sure there is no going back."
OK! NEWS: ANTONIO BANDERAS SHAKES HIS MONEYMAKER
Antonio seemed optimistic about the relationship in the November issue of AARP magazine.
"The secret to his long marriage is that we had failures before," he says. "And love at the beginning is a rush. It's big, full of energy, beautiful. But it doesn't last like that. Melanie and I talked about that a lot."
"Even in crisis, we have been patient enough to detect that at the end of the tunnel was a light," he said.