NEWS
In Memoriam: Stars We Said Goodbye to in 2009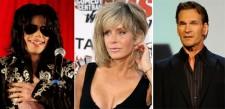 It's always hard to say good-bye to those familiar celebrity faces, the people who, over years of entertaining fans, become like good friends. This year we had to say farewell to some of our brightest stars, from the King of Pop, Michael Jackson, to the Charlie's Angel with the mane of gold, Farrah Fawcett. OK! takes a look back on those we lost in 2009 as we pay tribute to each star's unique legacy.
Article continues below advertisement
Michael Jackson, age 50: Aug. 29, 1958 – June 25, 2009
When news spread on the afternoon of June 25 that the Michael Jackson had been taken to the hospital where he had subsequently passed away, millions of fans across the world were stunned. His physician, Dr. Conrad Murray, admitted to administering strong drugs to him, and is still being investigated in connection with his death.The King of Pop, born to parents Joe and Katherine Jackson in Gary, Ind., had risen to super stardom from a very young age, first as part of his family music group, The Jackson Five, and later as a solo artist. The impact MJ had on music and pop culture as a whole may never be measured, as his legacy continues to live on today through his children and all those he influenced in his lifetime.
Farrah Fawcett, age 62: Feb. 2, 1947 – June 25, 2009
The world lost another bright star on the very same day as MJ, as Farrah Fawcett succumbed to the cancer she had so fearlessly tried to fight on June 25. Farrah rose to stardom first on Charlie's Angels, and it seemed the whole nation fell in love with the woman with that iconic mane of blond of hair. Farrah chronicled her battle against anal cancer in a documentary titled Farrah's Story, which aired after her death. She left behind son Griffin O'Neal, her son with longtime love, Ryan O'Neal.
Article continues below advertisement
Patrick Swayze, age 57: Aug. 18, 1952 - Sept. 14, 2009
The man who made women swoon with his mamba in Dirty Dancing and threw pots with Demi Moore before visiting her as a spirit in Ghost finally lost his struggle with cancer in September, passing away on Sept. 14. Throughout 2009, Patrick had pledged to overcome the pancreatic cancer that eventually claimed his life. "I've never been on to run from a challenge," Patrick told Barbra Walters in January. He was diagnosed in early 2008.
Natasha Richardson, age 45: May 11, 1963 – March 18, 2009
The entertainment world was shocked when in March, Natasha Richardson was severely injured in a skiing accident, and later died on March 18. Natasha was taking a beginner's ski lesson at Quebec's Mont Tremblant resort when she had a minor fall. She at first insisted she was fine and refused medical help but later complained that she wasn't feeling well and was taken to the hospital. After being airlifted to NYC, she later died as the result of an epidural hematoma due to blunt impact to the head. The Parent Trap actress left behind her husband, actor Liam Neeson, two sons, her mother, actress Vanessa Redgrave, sister Joely Richardson and aunt Lynn Redgrave.
Article continues below advertisement
Jade Goody, age 27: June 5, 1981 - March 22, 2009
While British reality star Jade Goody didn't have much time on this earth, the Big Brother winner made the most of her life, especially towards the end when she devoted herself to raising awareness about cervical cancer. She married her love Jack Tweed in February, as featured exclusively in OK!, and spent her last weeks at home with her two young sons, her new husband and her mother, before passing away on March 22.
Adam Goldstein, aka DJ AM, age 36: March 30, 1973 - Aug. 28, 2009
DJ AM, born Adam Goldstein, survived a horrific plane crash in late 2008, along with drummer Travis Barker, that unfortunately claimed the lives of four people and left him severely burned. It was those burns that those close to DJ AM, who was found dead in his NYC apartment on Aug. 28, say led to his return to the drug addiction he'd overcome a decade earlier. His legacy of trying to help others to turn away from addiction continues with the MTV intervention show he'd been working on, Gone Too Far.
Article continues below advertisement
Brittany Murphy, age 32: Nov.10, 1977 – Dec. 20, 2009
Hollywood was shocked as the news spread on Dec. 20 that Clueless star Brittany Murphy had been found dead in her shower by her mother. The saucer-eyed starlet got her big break in the 1995 movie with Alicia Silverstone, and continued on to success in movies like Don't Say a Word, Girl, Interrupted and Sin City. However her legacy has been shadowed by rumors of shady dealings by her husband, Simon Monjack. Brittany was buried on Dec. 24, and a toxicology report is still pending. CLICK HERE TO SEE HER LIFE IN PICTURES!
Jett Travolta, age 16: April 13 1992 - Jan. 2 2009
The only son of John Travolta and Kelly Preston, young Jett suffered from autism and reportedly, Kawasaki's disease throughout his life. The 16-year-old and big brother to Ella Bleu passed away early in 2009 at his family's vacation home in the Bahamas. "Jett was the most wonderful son that two parents could ever ask for and lit up the lives of everyone he encountered," father John said in a statement almost two months after his son's untimely passing. The Travolta family was also the victim of an alleged extortion plot by a former Bahamian lawmaker and a paramedic, a case which was recently ruled a mistrial due to juror misconduct.
Article continues below advertisement
The entertainment world also mourned the passing of these bright stars in 2009:
Patrick McGoohan, actor: Age 80 (March 19, 1928 – Jan. 13, 2009)
Ricardo Montalban, actor: Age 88 (Nov. 25, 1920 - Jan. 14, 2009)
Ron Silver, actor/director: Age 62 (July 2, 1946 – March 15, 2009)
Dom DeLuise, actor: Age 85 (Aug. 1, 1933 – May 4, 2009)
David Carradine, actor: Age 72 (Dec. 8, 1936 - June 3, 2009)
Ed McMahon, entertainer: Age 86 (March 6, 1923 – June 23, 2009)
Billy Mays, TV pitchman: Age 50 (July 20, 1958 – June 28, 2009)
Karl Malden, actor: Age 97 (March 22, 1912 – July 1, 2009)
Walter Cronkite, newscaster: Age 92 (Nov. 4, 1916 - July 17, 2009)
Frank McCourt, author: Age 78 (Aug. 19, 1930 - July 19 19, 2009)
John Hughes, director/screenwriter: Age 59 (Feb. 18, 1950 - Aug. 6, 2009)
Ted Kennedy, U.S. senator: Age 77 (Feb. 22, 1932 - Aug. 25, 2009)
Army Archerd, columnist: Age 87 (Jan. 13, 1922 – Sept. 8, 2009)
Henry Gibson, actor/songrwiter: Age 73 (Sept. 21, 1935 - Sept. 14, 2009)
Jimmy Sullivan, aka The Rev, drummer for Avenged Sevenfold: Age 28 (Feb. 10, 1981 - Dec. 28, 2009)