NEWS
Michael Douglas Tells Oprah Winfrey: Catherine Zeta-Jones Was "Outed" for Being Bipolar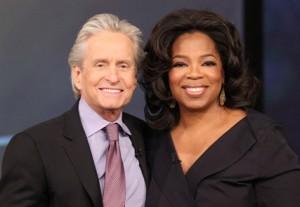 Article continues below advertisement
"I must say, Catherine's being quite open about it because she was outed, you know," Michael, 66, told Oprah (via ABC News). "She went to go get some help and some other patient probably in there said, 'Hey, you won't believe who's in here now.' And, so, once that happens, I think she felt it best to kind of get out the story."
To say Michael and Catherine, who married in 2000, had a difficult year is an understatement.
"My oldest son... is in federal prison. My ex-wife is suing me and I got cancer," the actor explained.
OK! NEWS: CATHERINE ZETA-JONES GETS TREATED FOR BIPOLAR DISORDER; MICHAEL DOUGLAS TALKS TO OK!
But Michael told Oprah that Catherine, 41, has been stoic through it all.
Earlier this month, Catherine's publicist, CeCe Yorke, confirmed to OK!, ""After dealing with the stress of the past year, Catherine made the decision to check into a mental health facility for a brief stay to treat her bipolar II disorder. She's feeling great and looking forward to starting work this week on her two upcoming films."