NEWS
Michael Jackson's Bodyguards Speak Out on His Secret Life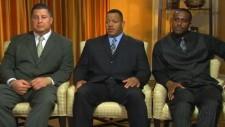 Three of Michael Jackson's former bodyguards, Mike Garcia, Bill Whitfield and Javon "BJ" Beard are speaking out about Michael's secret life in an interview with Good Morning America. The three men described Michael's life as being filled with "stress, paranoia and pain."
OK! NEWS: NEW DETAILS RELEASED ON MICHAEL JACKSON'S DEATH
The three former bodyguards first met Michael in 2007 when they were hired for Michael's personal protection, but the job was greater than just that. They were trusted with his life, his children and his secret, they revealed in an interview with Good Morning America.
Article continues below advertisement
Since Michael's death on June 25, his supposed drug abuse and problems with debt were widely talked about.
"He was intoxicated in some way, but I wouldn't say a problem, no," Garcia said.
Whitfield added, "Certainly there were times where he gave the appearance that he was probably high on something."
OK! NEWS: THIS IS IT MAKES $200 MILLION WORLDWIDE
While they may not have seen signs of a drug problem, they did see signs of financial problems saying it sometimes took Michael months to pay then.
"I'm seeing all these zeroes and we can't get a $5,000 check," Whitfield said, who handled all of Michael's personal paperwork.
"It was going out faster that it was coming in," Garcia explained.
Even long after the child molestation case in 2005, according to the men, Michael was still being sued and he chose to settle outside of court.
"We'd go to lawyers' offices and we'd be there from 10 a.m. until midnight," Garcia said and eventually that was too much for Michael.
Article continues below advertisement
CLICK HERE FOR ALL OF OK!'S MICHAEL JACKSON PICS & NEWS!
The three bodyguards were not in L.A. when Jackson died, but did attend his memorial at the L.A. Staples Center.
"I looked around, I looked at a lot of celebrities, a lot of stars…and it just made me wonder, where were they?" Whitfield asked. "Were these some of the people who turned their back on him after the second trial?"
"The guy was so lonely, where were they?" Garcia agreed.
Although Michael's family seemed very united at his funeral, the three bodyguards said Michael didn't see much of his family the two years before his death.
"They didn't come around much and when they did, they came unexpected," Whitfield explained. "And we'd say, 'Mr. Jackson, one of your family members is at the gate and would like to see you,' and he'd ask, 'Do they have an appointment?'"
Michael was, however, very close to his children, Prince Michael, Paris and Blanket, and the three men described Michael as an "awesome" dad.
Article continues below advertisement
"The kids were constantly saying, 'I love you, Daddy… They were like four buddies," Garcia said.
OK! GALLERY: PRINCE MICHAEL, BLANKET AND PARIS JACKSON KICK IT WITH COUSINS
"Certainly we hope that we did the best that we could to make them feel like kids and provide them with things to make them feel comfortable," Whitfield said of what he'd like to say to Michael's children now.
Garcia wants them to know they "were everything to their father."