NEWS
Michael Lohan Speaks Out About Lindsay After Visiting Her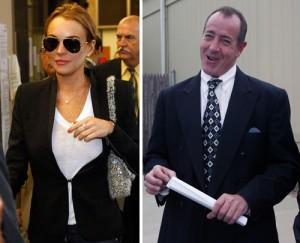 On Tuesday, Lindsay Lohan met with her estranged father Michael for the first time in months on one condition: That he doesn't talk to the press. Just hours after being reunited with his daughter, Michael seemed to break his promise to Lindsay — or did he?
Michael wasn't his usual self at The Reality Bash event at Industry in L.A. Rather than his typical spotlight-stealing behavior, the notorious dad hung back in the corner of club, steering clear of all the cameras documenting the party.
Article continues below advertisement
OK! GALLERY: LINDSAY LOHAN VENTURES OUTSIDE SOBER LIVING HOUSE
During the event OK!'s "The R List" blogger Jenn Hoffman caught up with Michael and spoke to him exclusively about his hopes of seeing Lindsay again, and what he thinks she needs to do next. During the interview Michael was also very protective of Lindsay and refused to reveal any details of his private time spent with her in rehab.
You just got to see Lindsay after wanting to see her for a long time. What's going through your mind right now?
'm looking forward to seeing her again.
So do you plan on seeing her again?
(Nods like he plans on it, but won't verbally confirm)
Why is it so hard to maintain a relationship with Lindsay?
The only problem is when you are in the public eye like we are, the entire relationship is under scrutiny so it's hard. It's harder for her.
OK! VIDEO: LINDSAY LOHAN JOKES IN JUDD APATOW'S AMERICAN JEWISH WORLD SERVICE PSA
Article continues below advertisement
What do you think Lindsay is going through in her mind right now? Was she happy to see you?
I know for a fact she's focusing on herself. I see it more now than ever.
What do you think, as her dad, she needs to do to get to the right place?
Just think back to where it all started and it all began. She's gifted.
What's holding her back?
I think it's just this business in general. They care more about themselves than the people around. People in this business can be very selfish. This is not about Lindsay because she's a very unselfish person. As a matter of fact she's a very giving person. But some other people don't care what level they take someone down to.
So other people are taking her down. Why do people want to vilify Lindsay? Why do people judge her and not people who might be doing the same thing or having the same struggles?
She's at the top. When you are at the top they want to bring them down.
What is it going to take for her to stay at the top?
Just being herself. Staying on the track she is now and focusing on being Lindsay. That's it.
Article continues below advertisement
What do you think about the way she was brought being in the spotlight? Is that still part of the problem? Or is she over that?
It's always a problem if you don't deal with it the right way. This is not only about Lindsay. It's about anyone in the spotlight. It's harder. You are scrutinized more. You know there's a lot more. A lot more people want to get in your life. It's unfortunate but you have to be able to cut those people out. Say to yourself I don't want those people.
What should she do next?
Focus on herself.
Lindsay spends long periods of time not talking to you. Why is that? Why not talk to you, then talk to you now?
I think divorce had a lot to do with it. It's a very horrible thing but it happens at times.
OK! NEWS: JUDGE AGREES — LINDSAY LOHAN WILL STAY IN REHAB UNTIL 2011
Is Dina being realistic about Lindsay?
All I can say is I hope Dina means everything she says.
What are the next steps for you in this relationship?
Continue to be the person I am. I'll never back down. I'll never stop loving my kids.
By Jenn Hoffman