NEWS
Michelle Money Admits to Warning 'Bachelorette' Ashley Hebert About "Bad News" Bentley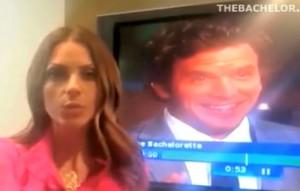 Leave it up to Michelle Money to ignite some drama. The troublemaker from Brad Womack's season of The Bachelor has revealed that she was the one who told pal Ashley Hebert about the beguiling but devious ways of contestant Bentley Williams.
Bentley has made it perfectly clear to the camera that Ashley is "not his type" and that he hoped Emily Maynard would have been The Bachelorette.
OK! NEWS: WATCH BENTLEY KISS ASHLEY HEBERT ON THE BACHELORETTE — "WOW, THAT WAS KIND OF BORING"
Article continues below advertisement
But Ashley can't help to fall for Bentley's good looks and even though she was warned that the 28-year-old single dad was on the show for the "wrong reasons," she thinks he is sincere.
However, Michelle has shared with fans of the show that she hopes Ashley "sends Bentley home as soon as possible."
"Everyone kind of wants to know if I'm the one who told Ashley about bad news Bentley," Michelle said in a video blog for Warner Bros Bachelor website. "The answer to that question is yes."
"I was given some information about Bentley that came from a very reliable source," Michelle continued. "And the information I was given was bad news — the kind of information that I would want to know if I were in Ashley's situation. So I felt like it was important for me to relay the message to Ashley."
According to Hollywood Life, the reliable source is Bentley's ex-wife Suzette Davis.
Article continues below advertisement
And even thought Ashley isn't heeding Michelle's advice so far, the single mom is happy she warned the Bachelorette.
"After watching the May 30 episode, it's very apparent that Bentley's there for the wrong reasons," Michelle shared. "So my fear is that Ashley maybe kept him around a little too long."
"I'm hoping that she takes the information I gave her into consideration as she continues on this journey and sends Bentley home as soon as possible," she added. "I love Ashley. I'm really glad I told her. I know Ashley would do the same thing for me if the roles were reversed."