NEWS
Michelle Williams Says Her Relationship With Heath Ledger Was "Cosmic"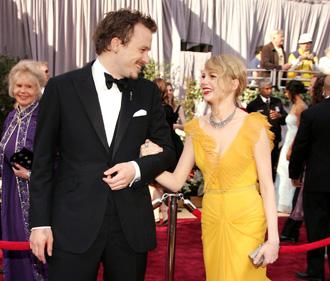 Michelle Williams has come a long way since her days promoting Brokeback Mountain. But one thing she'll always take away from that experience is her relationship with the late Heath Ledger and their beautiful daughter, Matilda, now 6.
The Golden Globe winner reveals that she knew instantly after meeting Heath that they would have some sort of special connection. "Our initial meeting, the circumstances of how we first met, were cosmic or something," Michelle tells the February issue of GQ. Michelle and Heath were inseparable on set, and soon, she discovered she was pregnant with their daughter. "Yeah, a lot of things happened at once," she adds. "It's a bit like, we had a lot of things to do because we didn't have a lot of time, or something."
Article continues below advertisement
OK! GALLERY: TOP FEMALE FASHIONS AT THE 2012 GOLDEN GLOBE AWARDS!
After Heath's tragic death in January 2008, she considered quitting acting and moving on from Hollywood. "It was horrible," Michelle says of finding out about Heath and then having to return to work. Directly after hearing the devastating news, Michelle had to finish a weeklong shoot for Mammoth before filming began on Martin Scorsese's Shutter Island, which she had already committed to. "I don't remember most of it," she says of shooting Shutter Island. "I've got a lot of holes."
MORE ON:
michelle williams
Once the film was completed, she wondered whether she would ever work again. "That seemed like a really smart idea," Michelle says of leaving acting behind. "You just want to be able to walk out of your house and turn your face to the sun and stumble down a corner where you have some memory, and you're not really allowed any of that." The paparazzi haunted Michelle's life, and she admits that all the attention was unbearable.OK! GALLERY: MICHELLE WILLIAMS & MATILDA DOLL UP IN BROOKYLN"It was making me crazy. I felt like I was going crazy. It was too much — trying to deal with what had happened and trying to deal with what was at our doorstep. I just felt trapped," Michelle explains to GQ. "And it's not just me — there's somebody else who I'm trying to protect, and I can't. I can't make it stop; I can't make it go away. Trying to find ways to explain it or shield Matilda from it. It's like you're trying to go about your life and make dinner... but the roof is off of your house, and the walls are falling down."OK! NEWS: MICHELLE WILLIAMS CHANNELS MARILYN MONROE ON THE COVER OF GQ! She thanks random moments for helping her through the heartache, adding that little things made her relax and think about the future. "I mean, it sounds so silly, but a just-right cup of tea," she says. "I spent a lot of time taking baths. A lot of tea and baths — double warm."Now, after almost four years since Heath's death, Michelle has found out who she really is and has achieved much success with her critically-acclaimed films, Blue Valetine and My Week With Marilyn. And although she wishes Matilda had a sibling close in age, Michelle is not looking for love after Heath, saying another baby for her family is "for whatever reason, not our luck, not our path."