NEWS
Minka Kelly on Derek Jeter Engagement: "I'm Not Getting Married in the Next Month"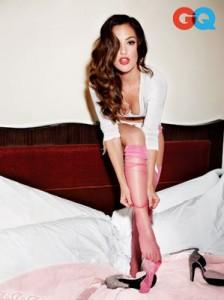 Minka Kelly has a few rumors she'd like to clear up. She didn't call her fiancé Derek Jeter for help during her reported airplane fiasco and they're not getting married... next month.
OK! NEWS: FRIDAY NIGHT LIGHTS STAR MINKA KELLY IS "COOL" WITH HER FLAWS
In September, Minka was reported to have a freak-out on an airplane when she was told her dog couldn't sit next to her on the flight.
And part of the rumor was that Minka called Derek to have him handle the situation, but Minka tells GQ that's just not true.
Article continues below advertisement
"Do people think that somewhere in my brain, I think Derek can save me from someone telling me my dog can't fly?" she asks. "If that's the way I worked, he would have left me a long time ago."
OK! NEWS: MINKA KELLY LIVES LIFE TO THE FULLEST
But, Minka and Derek are still happily engaged. That's right, engaged. Not married, despite the numerous reports.
"I promise you, I'm not getting married in the next month."
But the month after that...? Looks like the rumors can start again then!