NEWS
Moving Van Pulls Up to Sandra Bullock's Home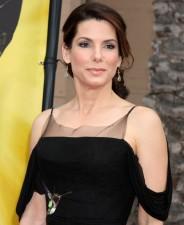 Trying to lay low after news erupted of husband Jesse James' infidelity, a moving van was spotted at the home Sandra Bullock shares with her partner on Friday morning.
According to TMZ, a moving and storage truck arrived at the Oscar-winning actress' home at 6:45 AM.
Packing up a sofa, love seat, and a bunch of boxes, the van left after an hour.
REPORT: ALLEGED JESSE JAMES' MISTRESS WAS PREGNANT
Before departing, an unidentified man and woman also arrived on site and removed a few of the boxes out of the truck and into their own vehicle.
Article continues below advertisement
Meanwhile, Jesses' daughter Sunny and mother Carol James, who was parked outside of her son's home all afternoon, was later seen removing more boxes from the house.
JESSE JAMES' LAWYER: "HE IS A BROKEN MAN"
Although there is no confirmation of a formal split between the Hollywood couple as of yet, more than four mistresses have come forward, including Michelle 'Bombshell' McGee, claiming to have been intimate with the West Coast Chopper CEO.
Jesse and Sandra were married in July of 2005.