NEWS
MTV's Faking It Premieres Tonight—Find Out How the Cast is Celebrating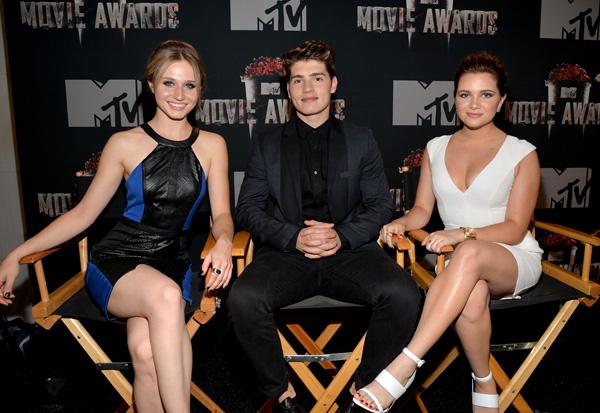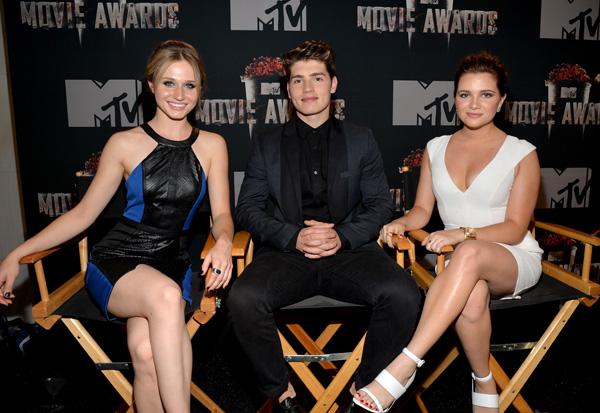 The cast of MTV's new series Faking It, premiering tonight after Awkward., is seriously in love with their show. Like they want to have a million of its babies. And with good reason, the series has a little bit of everything from comedy to drama. Revolving around two besties who are incorrectly "outed" as lesbians, catapulting them to popular status, Faking It goes a long way towards putting the kabosh on stereotypes and allowing outsiders to finally have a chance at being part of the "cool" crowd. OK! chats with series stars Rita Volk, Katie Stevens and Gregg Sulkin about finishing up Faking It's eight episodes, watching them for the first time and becoming part of the MTV family.
Article continues below advertisement
OK! News: Get Kate Upton's The Other Woman Premiere Look
OK!: We hear you got to binge watch all eight episodes of your own show recently!
Gregg Sulkin: As actors when you watch your own show you tend to be really critical but I do feel we all left pleasantly surprised by how well the show turned out. We are very excited.
OK!: Were you all together to watch it?
Rita Volk: Yeah! We had a little dinner.
GS: Katie made a chocolate cake.
Katie Stevens: It was Death by Chocolate.
RV: I brought wine!
OK! News: Which Awkward. Star Goofs Off the Most in Group Scenes?
OK!: Was it everything you hoped it would be and more?
RV: It was one of those things watching it you had every sort of emotion. You laughed. You cried. You were angry at characters. And it's so funny because we already knew what was happening but watching it I was crying, I was laughing, I was mad at people. Every emotion.
Article continues below advertisement
GS: Obviously as an actor, you're shooting your own scenes and then you go home and let the other actors do their own scenes and the amazing thing, for me personally, was to watch these girls and the other cast members really, really pull their performances out of the bag. They nailed it. In some of the episodes I felt really sorry for them and then I was laughing with them. It really was an emotional roller coaster and I'm on the show! I can only imagine for an audience member how happy and upset they may be.
KS: And I just want to add the thing I was pleasantly surprised about is every single character is so layered and they really have their own story and their own personality. A lot of times when you have a show with four or five characters there's always going to be, not a weaker link, but someone who doesn't get as much attention or as great a story written for them and I think the writers have done a great job. Fans are going to find something in every single character that they're going to like and relate to. I'm happy it turned out that way.
Article continues below advertisement
OK! News: Who is Halston Sage? Get to Know Zac Efron's Rumored New Gal Pal
OK!: Have you had the chance to meet other members of the MTV family?
KS: Starting to. I feel like it's been such a whirlwind and we've been focused so much o our show and filming our show that we haven't really met anyone else but we've started to get to know the cast of Awkward. So it's a great family to be a part of.
GS: Our show has an amazing lead-in with Awkward. They come on at 10 and we come on at 1030.
Catch the premiere of Faking It tonight at 10:30 PM on MTV.
What do you think of the Faking It promos? Yay or nay? Tell us in the comments or tweet @OKMagazine.