NEWS
Mya Works It Out & Gets Fit on 'DWTS'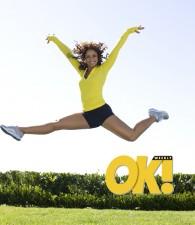 R&B singer Mya tells OK! that all of her rehearsals for ABC's Dancing With the Stars have put her in the best shape of her life. "I lost a lot of fat and I have more muscle," she dishes to OK!. " I dropped a dress size, from a 4 to a 2." The 30-year-old dancing star reveals how she sculpted her fit, fabulous dancer's body with the help of her dancing partner, Dmitry Chaplin.
What is your workout regimen like since starting DWTS?
Article continues below advertisement
We rehearse for six to 12 hours a day, several times a week. Aside from dancing, I do boxing workouts, I jump rope, do crunches and interval training.
How much weight have you lost since starting the show?
I started at 138 pounds and went down to 127 within a month, then down to 121 pounds. Now, I am back at 127 because I've gained muscle from dancing.
But you've been feeling under the weather lately.
Yeah, the flu is going around DWTS and I wasn't resting enough. I had flu-like symptoms, body aches. But I'm okay now.
CHECK OUT MYA WORKING IT OUT IN OK!
How has your diet changed since you started training for DWTS?
I am eating more protein now — I used to be a vegetarian! So I'm eating lots of chicken and beef. I splurge on carbs like mac and cheese, mashed potatoes, rice and gravy, bagels — the list goes on!
Article continues below advertisement
What are your thoughts on rumors that co-stars Aaron and Karina are dating?
I haven't heard anything about that. If they are, I wish them well. That would be pretty cool.
You met Katherine Jackson on the show. What did she say to you?
That was a highlight — getting the chance to meet the mother of a legend. She told me that Dmitry and I are her favorites on the show. I almost cried. I hugged her — it felt like I was a part of history.