NEWS
I'm Delusional But I'm Not Crazy, Says Octomom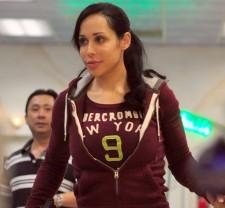 Nadya Suleman is raising 14 kids alone with no regular income and just two hours sleep a night but she insists she's not mentally unstable.
Although she says she may have been delusional when she went for fertility treatments, Nadya assured the ladies of The View yesterday that she's not crazy.
OK! NEWS: OCTOMOM DEFENDS HER DOCTOR
"I believe, in my mind, I was fooling myself, thinking, well I'm rationalizing — I do that often — thinking, 'Well I can't have kids later. I was told I had this time frame with regards to fertility," the 34-year-old explained.
Article continues below advertisement
"So, in my head, delusionally thinking that I could finish my masters program, that I could have one more baby after the six, that I could continue and earn enough money to take care of them."
OK! VIDEO: OCTOMOM ADMITS SHE SCREWED UP HER LIFE
Whoopi Goldberg asked her if "there might be a mind thing" leading her to have so many children.
"I've asked myself that for years, too," answered Nadya. "Everyone goes through life, some people in varying degrees wearing certain clouded glasses.
OK! NEWS: JON GOSSELIN'S KIDS COULD FIX HIS FINANCES
"I was in denial for so many years thinking, Oh, I'm so smart, I have a year left for my masters, I can do it all. I'm strong. I study all night long. I'm taking care of my kids, all six of them, no help at all. Not one nanny. So I'm thinking, What's one more from six? So this happens.
"It took this monolithic experience of having eight simultaneously to completely wake me up and alter my mindset permanently…Everything, I'm dumping into the book that I'm writing."
Article continues below advertisement
OK! NEWS: HAILEY GLASSMAN REVEALS JON GOSSELIN'S INTIMATE SECRETS
Barbara Walters repeated Whoopi's question, asking Nadya, "Do you think that you are all there?"
"I think absolutely," she said. "In true genuine mental illness, if you're exposed to extraordinary stressers, you will, most likely, not be able to tap into yourself and pull out the reserves and pull out the resources and strengths you need survive and to continue to stay afloat. If I were genuinely mentally unstable, I would have drowned."
OK! NEWS: KATE GOSSELIN IS WELCOMED BACK TO THE VIEW
Other topics covered included Nadya's incredible weight loss enabling her to get back into 24-inch-waist jeans nine months after giving birth to the octuplets.
"The main reason was obviously revenue and I'm the first to admit it," she said dropping 145 pounds through weight training and a sensible diet. "I'm very, very open and honest about that."
Article continues below advertisement
Meanwhile, Nadya's focusing on basic survival: "Every single hour of the day, I contemplate how I am going to do this, to be able to support them," the single mom, who had been studying for a master's degree in counseling before having the octuplets, said.
"It is a Catch-22," she continued. "If I go back to school ... I couldn't possibly earn enough money to take care of them ... So the only other option is to delve into other opportunities ... you know, doing interviews ... to make the money."
OK! NEWS: PADMA LAKSHMI GIVES BIRTH TO BABY GIRL, KRISHNA
As she cares for her 13-month-old octuplets and juggles looking after her six older children Nadya admits she sleeps, "two hours a night" as she "desperately" tries to have one-on-one time with her kids every day.
"My life has become literally a blur of child rearing," she admitted, but despite the sheer purgatory that is her life she doesn't rule out having more children.
OK! NEWS: MARISSA JARET WINOKUR WANTS MORE KIDS
"Some day far, far, far in the future, when they're older, if, God-willing, I meet somebody," she says. "I don't want any kids more alone, but I'm not going to say 100-percent, 'No, I'm not gonna someday far in the future get married and want a baby with that person.' "