NEWS
Nicki Minaj Reveals She Contemplated Suicide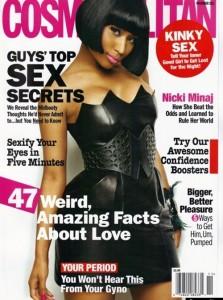 Nicki Minaj looks fierce on the November cover of Cosmopolitan, donning a black leather dress and bright pink lips. The singer opens up about a very serious issue in the interview, revealing that at one point in her life, she contemplated suicide.
"I kept having doors slammed in my face," Nicki tells Cosmo in the November issue. I felt like nothing was working. I had moved out on my own, and here I was thinking I'd have to go home."
Article continues below advertisement
She adds: "It was just one dead end after another. At one point, I was, like, 'What would happen if I just didn't wake up?' That's how I felt. Like maybe I should just take my life?'"
Now, Nicki is a household name and an international superstar, touching many with her music.
What do you think of her Cosmo cover? Sound off below.