NEWS
Nicole Richie Sweats It Out & Works On Her Fitness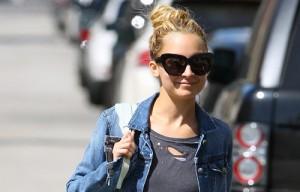 Fashionista mommy Nicole Richie worked on her fitness yesterday at a gym in Studio City, Calif. on April 5. Nicole has been hitting the gym a lot lately to keep up with her svelte figure. Hubby Joel Madden is one lucky guy! Nicole left the gym just minutes after Kim Kardashian, wonder if the two starlets are gym buddies?
Article continues below advertisement
Nicole is quite close with the Kardashian sisters and even pulled an April Fool's prank on Khloè! Just last week, Nicole hacked Khloè's twitter account by tweeting things like:
"I am changing my name to Chloe Cardashian. K's are no longer a part of my life."
"My poops are in the shape of Ks"
"ugh, I kan't keep up with my kalculator"
Khloè was a good sport about the practical joke and laughed the tweets off. Wonder if Khloè's getting Nicole back by planning an April Fool's 2012 prank?