NEWS
1 Officer To Be Charged, 2 Walk Free In Shooting Death Of Breonna Taylor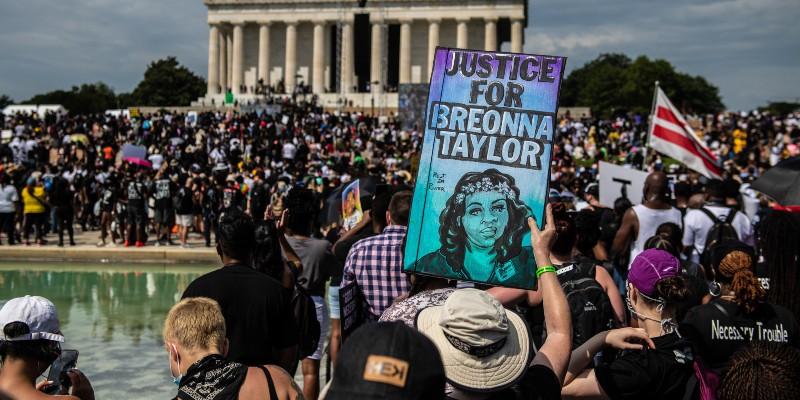 One of three police officers involved in the shooting death of Breonna Taylor in her Louisville apartment will face charges of first-degree wanton endangerment.
The decision was made to indict Detective Brett Hankison on Wednesday, September 23, after a grand jury in Jefferson County concluded its investigation.
The other two other officers, Sgt. Jonathan Mattingly and Detective Myles Cosgrove, will see no charges stemming from the fatal incident, which took place March 13.
Article continues below advertisement
Article continues below advertisement
Taylor, a 26-year-old African-American woman, was fatally shot by Louisville Metro Police Department when plainclothes LMPD officers entered her apartment, executing a no-knock search warrant.
According to The New York Times, "While the department had gotten court approval for a 'no-knock' entry, the orders were changed before the raid to 'knock and announce,' meaning that the police had to identify themselves."
'SUCCESSION' BAGS 4 EMMYS, SHOW'S CREATOR 'UN-THANKS' TRUMP AND BORIS JOHNSON
A police report from a witness at the scene says the officers knocked and announced their identity before forcing entry, but the police and the witness differ as to how they announced themselves. Taylor's boyfriend, Kenneth Walker, and 11 other witnesses deny that the officers announced themselves at all. Walker and the officers exchanged gunfire. Walker has said that he believed the officers were intruders. The officers fired over 20 shots. Taylor was shot five times, according to her death certificate, and LMPD Sergeant Mattingly was injured by gunfire.
Article continues below advertisement
Walker, who was licensed to carry a firearm — and under the assumption someone was breaking into his apartment — fired first, injuring a law enforcement officer; police returned fire into the apartment with more than 20 rounds.
The primary targets of the LMPD investigation were Jamarcus Glover and Adrian Walker, who were suspected of selling controlled substances from a drug house more than 10 miles away. According to a Taylor family attorney, Glover had dated Taylor two years before and continued to have a "passive friendship." The search warrant included Taylor's residence because it was suspected that Glover received packages containing drugs at Taylor's apartment and because a car registered to Taylor had been seen parked on several occasions in front of Glover's house.
Hankison was fired on June 23 for his actions during the raid. In his termination letter, his chief says Hankison's conduct "displayed an extreme indifference to the value of human life" and is a "shock to the conscience," as he "wantonly and blindly fired ten (10) rounds."
On September 15, the City of Louisville agreed to pay Taylor's family $12 million and reform police practices as part of a settlement.