NEWS
OK! Blog: Anoop Desai's Idol Dish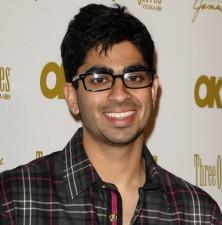 Of the more than one million people across the country who've auditioned for American Idol, only a few dozen know what it's truly like to live the Idol life. That's why OKmagazine.com has brought in an expert! Every week, former finalist Anoop Desai shares his insights on the new season, only for OK!.
I wrote last week that R&B would be a perfect place to break the mediocre reputation of this season, and I think that held true.
Article continues below advertisement
We saw a few folks step up last week and really start to compete. I don't think Didi was the weakest performance of the night. That spot belonged to Siobhan (surprisingly). She will recover this week for Lennon/McCartney though. I think Siobhan learned what every good singer must learn at some point: simpler, often times, is better. R&B week found her trying too hard to be different. I think she's realized that she's different without trying, and that's what people love about her. I've had enough with the screaming, enough with the shaky arrangements. What I love about Siobhan is her personality, her unique voice, and her ability to transform a stage with her performances. She doesn't need to prove anything beyond that.
Article continues below advertisement
Casey and Aaron might be getting into the act too. They've found their unique qualities and have been using them well over the past couple weeks. I'm proud of each of those contestants for figuring out what it takes many people too long to realize: the reason they're there is because they are unique. Here's to each of them continuing to flourish in their originality.
The Lennon/McCartney songbook is perfect for these types of contestants. These are some of the best and most beloved pop songs of all time. People don't necessarily want to hear them changed. I predict that the contestants that will do best this week will let the song simply be the song. They will be the ones who let their voice shine within the framework that they've been given. For this reason, it might even be a good week for Tim Urban.
Relative simplicity should never be made more than it is, especially on Idol. I hope that each of the contestants realize that Lennon/McCartney is a gift. They're being given the opportunity to sing... just sing. I wish them the best in taking that opportunity.
Anoop
Follow Anoop on Twitter at !