NEWS
OK! COVER STORY: Exclusive! The Hunger Games' Secret Romance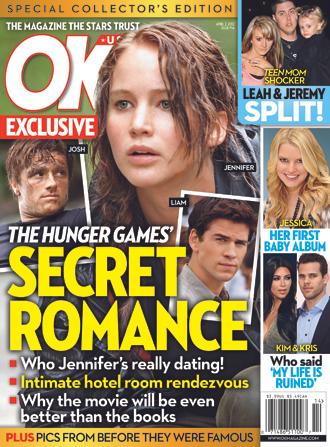 Fans of The Hunger Games books have been waiting anxiously — and now the movie's here! But what happened behind the scenes with stars Jennifer Lawrence, Liam Hemsworth and Josh Hutcherson? OK! got the scoop on where the cast went, who they're dating and what really happened on set!
OK! GALLERY: THE CAST OF THE HUNGER GAMES STEPS OUT IN STYLE AT BERLIN PREMIERE
During the three-month shoot in North Carolina, the cast members weathered grueling workouts and 14-hour days on the set. "It's a very physical film," a production insider tells OK! exclusively. "But the cast was hard-working and wanted to do justice to the characters."
Article continues below advertisement
They even survived stifling heat, humidity — and bugs! "It was like some weird summer camp," said Jennifer, who plays Katniss, and who got to play hero in real life when someone stepped on a hornets' nest on the set. "I got stung four times in the face, but Jennifer came to the rescue," says Amandla Stenberg, who plays Rue. "She picked me up and ran to the car!"
However, the hardships were totally worth it.
Article continues below advertisement
• Teen Mom shocker: Leah Messer and Jeremy Calvert break up… then make up! Jealousy rears its ugly head as Leah doubts her relationship.
• Kim Kardashian thought it would be easy to divorce Kris Humphries but he won't go without a fight.
• The Jolie-Pitt kids are out of control! Brad Pitt and Angelina Jolie's sugar-filled brood goes wild.
• Spring Beauty Blowout! See the hottest lipstick and nail color shades right now, as seen on Amber Heard and Emmy Rossum. Olivia Wilde shows how eyes get earthy with this spring eye makeup trend. The bronzers that will get you glowing for spring.
• The sun is shining, so it's time to shed the layers and throw on a frock! Kendall and Kylie Jenner model the season's top picks and chat with OK! exclusively about fashion and their famous sisters!