NEWS
OK! Cover Story: Kim Kardashian's Secret Adoption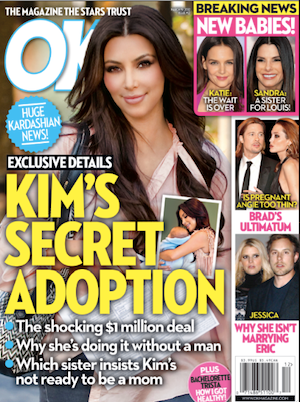 When Kim Kardashian gave up the fairy tale of living happily ever after with Kris Humphries, she didn't give up her dream of becoming a mother. Today Kim, 31, has begun the process of adopting a baby as a single mother. "Kim has always been very maternal," an insider says. "Of the three sisters, she's the one who's been saying that she's ready for kids the longest."
OK! NEWS: KRIS HUMPHRIES DISAGREES WITH KIM KARDASHIAN KEEPING THEIR WEDDING GIFTS
Article continues below advertisement
Since her split from Kris last October, Kim has been keeping a lower profile by working hard and spending more time with her sisters and mother. This time to think has cemented Kim's certainty that she should take steps to adopt a baby by herself.
OK! NEWS: KHLOE KARDASHIAN ODOM ON NOT LIKING KRIS HUMPHRIES
"It's all top secret, but the adoption is already underway," a source explains. "Kim is ready. She's made inquiries and gotten information. Now she just has to decide where she wants the baby to come from."
FOR MORE ON KIM'S SECRET ADOPTION, PICK UP THE NEW ISSUE OF OK!, ON SALE THURSDAY.
More in this issue of OK!:
• Friends say Tom Cruise and Katie Holmes are working on a second child — but is a baby already on board?
• As a pregnant Angelina Jolie gets thinner and thinner, Brad Pitt has an ultimatum for the mother of his children.
• Now that Trista Sutter's a mother, it's not just about a hot body — it's developing the right habits to be healthy and happy.
• Teen Mom's Amber Portwood has one goal now that she's out of jail: to get back custody of her daughter, Leah.
• Single mom Sandra Bullock adopts again, Louis is going to be a big brother!
• Why Jessica Simpson's wedding to Eric Johnson is on hold for now.