NEWS
OK! COVER STORY: Kris Humphries Dating Kim Kardashian's Look-Alike!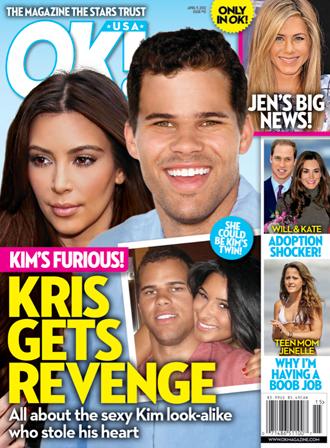 Since his high-profile 72-day marriage to Kim Kardashian went up in smoke last fall, Kris Humphries has kept a low profile, concentrating on basketball and little else. However, the 27-year-old New Jersey Nets star, who is having the best season of his NBA career, is finally opening up his heart again.
OK! GALLERY: KIM KARASHIAN FLOUR-BOMBED ON THE RED CARPET, CLEANS UP & RETURNS TO EVENT
"Kris was all about taking numbers and having fun," says a friend. "He wasn't really being considerate of girls' feelings; he was more about just playing the field and keeping his options open."
Article continues below advertisement
That has changed, however, now that he's talking to Bianka Kamber again. Bianka, a 28-year-old nurse from Toronto, was Kris' girlfriend for two years. He never forgot her.
OK! NEWS: KIM KARDASHIAN FINALLY CONFRONTS KRIS HUMPHRIES
"Bianka was his first love," explains an insider to OK!. "She's a very down-to-earth, sweet girl. He admits he wants to win her back."
The thing is she looks strikingly similar to Kim!
FOR MORE ON KRIS' REVENGE ROMANCE WITH BIANKA, PICK UP THE NEW ISSUE OF OK! — IN STORES EVERYWHERE THURSDAY!
MORE IN THIS ISSUE OF OK!:
Jenelle Evans has a son and a criminal record, and soon she will also have a new body.
Prince William and Duchess Kate Middleton want to adopt, but they must first produce a biological heir to the throne.
Jennifer Aniston and Justin Theroux are all about collaboration! They have business and babies on the brain!
Will Britney Spears join The X Factor? Those close to her aren't sure it's such a great idea.
Jessica Simpson is sparing no details about her pregnancy, and some people wish she would!
OK! counts down the top 10 stars who want it all! See where Selena Gomez and Justin Timberlake rank in this list of crossover celebs.
Check out these fashion bargains seen on the likes of Demi Lovato and Amber Heard.