NEWS
OK! EXCLUSIVE: 'American Idol' Shows Lady Gaga the Money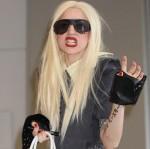 Even though the mega pop star has appeared on American Idol two years ago with a live performance of "Just Dance," Lady Gaga began to make her own demands for her second time around.
OK! NEWS: AMERICAN IDOL — WHAT WASN'T ON TV FOR SIOBHAN'S ELIMINATION
When American Idol approached the outrageous singer, she demanded a paycheck of $250,000 to appear on the hit Fox show. Producers of the show hesitated to pay her that amount of money.
Article continues below advertisement
"They thought it was just crazy she was asking for so much money," a source tells OK! "It was just too much money to pay talent for a performance."
OK! INTERVIEW: IDOL CASTOFF TIM URBAN
But American Idol producers have patched up things with Lady Gaga, because the attention-getting singer taped her performance for next week's American Idol Top 5 Results Show.
The singer performed a dash of "Bad Romance" on the piano, and will then break into her current hit "Alejandro."
"Lady Gaga will make some jaws hit the ground as she wears a black thong with a revealing black fishnet bodysuit," an eyewitness tells OK! "It's a typical provocative costume, but it's a little shocking."
OK! NEWS: 2010 AMERICAN IDOL LIVE! TOUR DATES ANNOUNCED
Her costume is a black fishnet bodysuit with black sequined accents, which is rather jaw-dropping. It looks to have been handmade. But typical sky-high footgear were a bit much as she almost took a hard tumble during the taping. But she barely missed the fall, and the show went on.
Article continues below advertisement
Lady Gaga even uses blood in this performance, which was very reminiscent of her performance of "Paparazzi" on the 2009 MTV Video Music Awards.
CLICK HERE FOR ALL OF OK!'S AMERICAN IDOL NEWS!
Unlike other past performers on AI, Lady Gaga's stage is rather elaborate, which is pretty dark, full of smoke to create mystery, and danger. The singer — who never manages to not shock audiences — has near-naked homoerotic male dancers supporting her throughout the number. An angel that expels fire on a mirrored platform will hold court on stage, as well as black thorn-like trees with black poison ivy, and razor blade benches dripping in blood along the stage.
It's a bit surprising to see such a provocative costume and performance on a "family show," so perhaps parents might want to put their children to bed for this number.
"After looking at her costume, stage and production, it is easy to conclude a good chunk of change was spent on her performance," the eyewitness continues.
OK! BLOG: ANOOP DESAI'S IDOL DISH
The choreography is all original, and exclusively created for this episode of American Idol. It will not be repeated on any of her upcoming tours.
This past Tuesday, Lady Gaga and her dancers rehearsed for three and a half hours for the taping on Wednesday. The performance will air on Wednesday, May 5 along with Harry Connick Jr. who is the Idols' mentor of the week.