NEWS
OK! Exclusive: Austin Mahone Responds to the Selena Gomez Dating Rumors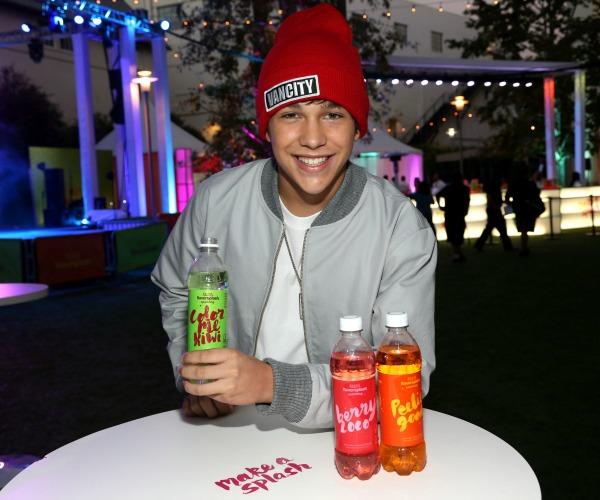 Is Austin Mahone dating Selena Gomez? He's certainly having an exciting day! The news broke this morning that he and Selena may be involved, and now he's performing tonight at PepsiCo's kick-off celebration to the Super Bowl in New York City. Austin is a new spokesperson for Aquafina FlavorSplash. We tried some flavors with him today and dished about the Make a Splash contest (more details below), Valentine's Day—and Selena, of course!
Article continues below advertisement
OK! News: Oh no! See why Austin Mahone had to reschedule his last tour!
OK!: What is Aquafina FlavorSplash?
Austin Mahone: Aquafina is coming out with a new drink called FlavorSplash. It's actually really good, I tried it myself. It's amazing. I think kids are really going to enjoy it. I'm honored to be a part of what they're doing. I just shot a commercial with them for my new single, "Mm Yeah." It aired during the Grammys, so that was pretty sweet.
OK!: What is the best flavor, in your opinion?
AM: I would say kiwi, but I actually just made my own flavor five minutes ago. I call it straw-kiwi, strawberry and kiwi together. I'm telling you, once that hits stores, it's going to be great.
OK!: Who are you rooting for in the Super Bowl?
AM: Mmmmm... Broncos?
OK!: You're not sure?
AM: I don't have a specific team. It's going to be a good game, and I'm excited to watch.
Article continues below advertisement
OK!: Do you have a plan for Valentine's Day right now?
AM: No. I will probably buy chocolate for myself and eat it alone, in my room. laughs It's the worst thing ever.
OK!: What are your thoughts on Valentine's Day? Does it annoy you, or is it a nice thing?
AM: It's nice. It's a nice occasion, if you have someone to share it with starts fake crying.
OK!: How would you spend your ideal Valentine's Day, with a girl or alone?
AM: Like I said, I think it would have to involve lots of chocolate, because I love chocolate. And maybe watching a good Valentine's love movie.
OK!: What comedy would you rather watch with a girl? It doesn't have to be romantic.
AM: Anchorman. I love Anchorman. I love anything with Will Ferrell in it. I think he's just good, he just gets comedy. He's outrageous.
OK!: Did you see the second one? What did you think?
AM: Of course. It was great. I feel like the more I watch it, it's just going to get better and better.
OK!: What is your idea of romantic?
AM: My idea of romantic, I feel like it's better to be more spontaneous than to have this huge plan and make it this huge thing. Those are good sometimes but spontaneous is better. Girls like that.
Watch: Austin Mahone told us he checks out his fans' Twitter pictures! See what he said.
OK!: Do you have a request right now we could send out to fans? Are you lacking something?
AM: I'm lacking more Skittles. Just kidding, I have so many Skittles! They send me really nice letters and candy and I think it's the sweetest thing.
OK!: Speaking of love, there are rumors today that you are seeing somebody new. Can you confirm or deny that you're seeing Selena Gomez?
AM: I'm not seeing her. We're just friends. We always talk music, like she shows me her new song she's about to come out with. She's super cool. She's got some great music coming out, so yeah.
OK!: What is the state of your new album? What have you recorded, and what can we expect?
AM: It's almost done. I'm planning to get it out by the middle of the year. I just have so many amazing songs, I want to pick the right ones to be on the album.
OK!: What kind of new sound or story is going on?
AM: There are a lot of different sounds, because I've been working with different producers like Max Martin, RedOne, SeanGarrett, many people. So it's going to have a good variety on there, there's going to be some collaborations, some good ballads. It's going to be really nice.
Watch: Find out which secret talent Austin Mahone wishes he had.
OK!: What was it like working with Pitbull?
AM: Pitbull is a crazy guy. Like his energy is unreal. He's always happy, always excited. That's good to have in the studio, someone who's passionate about music like that. He's great.
OK!: Who would be your ideal partner for a collaboration?
AM: I really want to collab with Drake. He's probably my favorite artist.
OK!: What did you think of the Grammys?
AM: I thought it was great. My favorite performance was Kendrick Lamar and Imagine Dragons. They destroyed that. I really enjoyed the way Pink was flying around on those ropes. And then I thought Beyonce and Jayz's performance was good.
OK!: You were pretty sick last fall. How are you feeling now?
AM: I feel great. I was about to go on my Artist to Watch tour, and literally the night before, like we're about to do the first show, I got strep throat, and it just sucked. We had to move the whole tour. It's going to be end of February, beginning of March. I'm really excited.
Teens can visit FlavorSplash.com starting February 10 until February 17 to enter the "Make a Splash" contest. Submit a video explaining how you want to make a splash in the music industry, and you could win a chance to shadow Austin in New York City for a day!
Do you think Austin and Selena are really seeing each other? Do you think they'd make a good couple? Have you seen Austin's commercial yet? Tell us in the comments below or tweet us @OKMagazine.