NEWS
OK! EXCLUSIVE: Elin Betrayed By Tiger... Again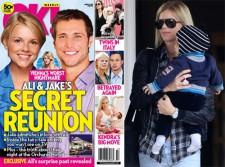 Elin Nordegren thought she knew what to expect from her husband, Tiger Woods, at his Feb. 19 press conference — but she was horrified to realize that once again he'd lied to her. Hours before he appeared on TV, Tiger told Elin that he would be announcing his return to golf at April's Masters Tournament and saying very little about their marriage.
"She was expecting him to read his prepared speech, put in two lines she had approved about their relationship and that would be it," says the insider.
Article continues below advertisement
Instead, during his tense and teary public apology, Tiger mentioned Elin by name eight times and confessed that he would be returning to rehab — something he hadn't bothered to tell his wife. Therapy has been a sore spot for the couple, because during his first 45 days of treatment, Tiger had given up on the couple's counseling.
OK! NEWS: TIGER WOODS SAYS "I FEEL THAT I WAS ENTITLED"
"Therapy fell apart after the first or second session," explains the insider.
So hearing him claim on national TV that he was willing to try again was devastating for Elin, who believes he only said it to repair his public image, not his marriage.
"It hit her like a ton of bricks. He's lied so many times — she feels betrayed all over again. She's sure the whole mea culpa is just for his image."
Others who watched Tiger's apology also doubted his commitment to changing. "He came off very phony; I'd give him an F-," body language expert Dr. Lillian Glass tells OK!.