NEWS
OK! Exclusive: Mama Joyce Speaks Out—Her Surprise Reason For Backing Off Kandi and Todd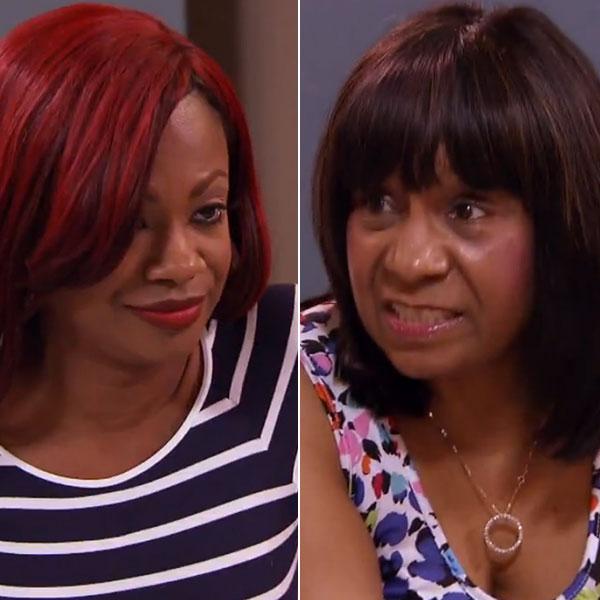 This season on Real Housewives of Atlanta, Mama Joyce has received a lot of flack for her opposition to daughter Kandi's fiance Todd. What once appeared to be the perfect mother-daughter relationship started crumbing as the pair argued relentlessly over whether or not Todd is to be trusted. Mama Joyce made some pretty bold remarks about the groom-to-be, leaving many to wonder if the rift between them is irreparable. OK! chatted with Mama Joyce to get her side of the story and the status of her relationship with Kandi today.
Article continues below advertisement
OK! News: Why Is Kanye West Furious Over Beyonce's New Album?
OK!: Why are in you such opposition to Kandi's fiance Todd?
Mama Joyce: Well, right now I've decided to back completely out of it. Kandi and I are in a very good place. We're at a place where we are back to talking and we're getting close like we used to. I just decided to let Kandi make her own decisions, whether it's good, bad or indifferent. That doesn't mean I totally agree with her but this is her decision and whether it's wrong or right she's going to have to live with it.
OK!: When did you decide you were going to back off?
MJ: The turning point was when she was getting ready to go out of town for Christmas. We'd never been apart or left each other without saying goodbye and I love you. It was the day before she was leaving and I thought about it and said, "Let me call my daughter." I told her to have a nice trip, I love her and I look forward to seeing her when she comes home. I would never want to think we were in a bad place if something were to happen to her. If something were to happen to me I know it would have killed her the same as it would me. She came over as soon as she got back and we've been really talking and seeing each other ever since.
Article continues below advertisement
OK! News: Get The Details on Kaley Cuoco's Golden Globes Look
OK!: Do you feel like the show over-dramatized what was going on or were the arguments between the two of you that intense?
MJ: They were just as intense. Everything on the show is real. You forget you're on TV. You forget about the cameras when you're doing the show. I know I do. Some things later you would rather you didn't say or rather didn't happen. Some things you wish they had left in but they cut out. It makes things appear a different way. If they had left certain things in it wouldn't look the same way.
OK!: Were you surprised by the way fans reacted to the arguments between you and Kandi?
MJ: Yes, I think I was surprised the way people started looking at me as a mother who was looking out for herself, greedy for money and worried about being taken care of more than her daughter's security and well-being. I've always looked out for my daughter. My love is for my daughter. My daughter doesn't take care of me and that's what really got to me the day that Cynthia (Bailey) and Sandra Bernhard were on (Watch What Happens Live) and said, "Well how does Kandi's mother make it?." Cynthia said, "I think Kandi takes care of her." Cynthia knows Kandi doesn't take care of me. I've been on retirement and I have rental property and I've taken care of myself all my life. I live in the same house Kandi was born in. I moved here the month before Kandi was born. Back then it was considered a really big house. If I was that greedy mother I would have said, "Hey, I want another house." I've always wanted her to have the best. I just don't want anybody to come in and undo what I've worked so hard to help her build.
Article continues below advertisement
OK! News: Gwen Stefani is Having a....
OK!: I understand that urge to protect.
MJ: I started saving for my son and my daughter when they were born. My son was a baby when I started saving for his college. He had a college scholarship so then I put it towards for Kandi. My son was in an accident and all of the insurance money...I couldn't use that money, no amount of money could replace my son, so I put it in bonds. I still have some of the bonds now. I've never been hurting for money. That really bothered me for them to say, "Well Mama Joyce just wants Kandi to take care of her." Hey, where is this coming from? I don't need Kandi to take care of me. Kandi is nice to me. Now Kandi wants to give me anything she saw I wanted, but I don't ask Kandi to give me or buy me whatever. In fact I tell her, no, baby, I don't need this. Don't do this.
OK!: How did you feel about the musical Kandi created? It was implied that it's loosely based on her life.
MJ: Well I thought it was a very good musical but it wasn't a depiction of our life. The way the musical ended the father ended up saving the day and her father still owes me child support so that was not our life. I've never borrowed money from any man Kandi ever dated so that definitely wouldn't be our life. I just thought it was a good musical. I thought she wrote really good songs because she's extremely talented. I've always made sure she has the best.
Who side are you on in the great Kandi and Mama Joyce debate? Tell us in the comments or tweet @OKMagazine.