NEWS
OK! EXCLUSIVE: Rebecca & Jerry on Twins — They Share Their Own Language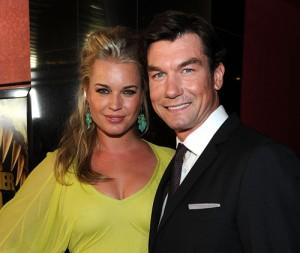 Rebecca Romijn and Jerry O'Connell are doting parents to their one-year-old twins, Dolly Rebecca Rose and Charlie Tamara Tulip. The girls are starting to really develop little personalities and even their own language! The hot Hollywood couple told OK! exclusively that Dolly and Charlie have developed a gibberish that only they can understand!
"They aren't really talking. They are having conversations in gibberish," Jerry told OK! at the premiere of his new movie Piranha 3D.
Article continues below advertisement
"They have a very specific language that they speak with each other. They talk to us a little, but they have this very funny language. They are very specific. It's a twin thing," Rebecca added about Dolly and Charlie's latest milestone.
So what words to the adorable twins with the world?
"Well they say 'ma,' 'da,' 'doggy' and they make animal sounds and they love scary animals like, 'What did the dragon say,' " Rebecca said.
With toddler twin girls running around, it isn't always easy for the couple to spend alone time.
"We got a sitter and went on a date for sushi," Jerry said of the last time they spent without the kiddies. "I don't usually go for sushi, but I do when I want to get on my wife's good side."
Article continues below advertisement
"Read between the lines," Rebecca quipped.
Will the twins be allowed to watch Daddy in the scary movie about lethal piranhas?
"No way! But trust me, if they are anything like me, by the age of 13, they will find a way to see scary movies because when I was 13 that's all I wanted to see," Rebecca said.
So are there any more children on the horizon for Jerry and Rebecca?
"No, I am done, that's it," she said.
Reporting by Gena Oppenheim