NEWS
OK! Exclusive: Rob Kardashian Involved in Nightclub "Brawl"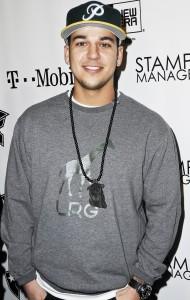 It's hard enough trying to keep up with the Kardashian sisters: Kim, Kourtney, and Khloe. But in recent news, younger brother Rob Kardashian was asked to leave a trendy nightclub, Boudoir at Coco de Ville, in L.A. on Wednesday night after his friends were involved in a brawl.
"Rob was at Boudoir with a group of friends, all sitting at a table. For some reason, a girl at his table and a girl at the table next to theirs got in some stupid argument," a source revealed exclusively to OK! of the 23-year-old Keeping Up with the Kardashians star.
Article continues below advertisement
OK! EXCLUSIVE: KIM KARDASHIAN'S PAL CLEAR UP MILES SPLIT RUMORS
"So these two girls are bickering at each other, and then one of the guys from Rob's table gets involved in the girls' argument, and that pisses off a guy at the other table," the eyewitness explains that the scene continues to worsen.
Once the argument escalated, a few of Rob's friends turned violent.
"Then it just turns into an all-out brawl. One of the guys from Rob's table broke a bottle over the head of a guy from the other table."
When the group was escorted out of Boudoir, JC Chasez, former member of N'Sync, stepped in to help clean up the mess although he had no prior involvement with the scuffle.
KIM & ROB KARDASHIAN DASH TO PAY THE METER
"After the bouncers step in to drag them out, somehow a waitress got in the middle of it and got knocked on the floor and JC Chasez, who was there separately from Rob, obviously felt really bad for her and went over to pick her up and make sure she was OK."
A spokesperson from the LAPD told OK! that they have no record of the incident.
A rep from Boudoir had no comment. Reps for E! and the Kardashian family did not respond to requests for a comment.